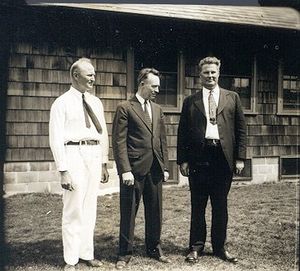 IEEE's Oral Histories Program celebrates 55 years of conversations with the field's greatest pioneers
On top of the milestone 50th anniversary of the IEEE Foundation in 2023, another landmark achievement deserves equal recognition – the 55th anniversary of the IEEE History Center's unique and powerful Oral Histories Program (ieee.org/about/history-center/programs.html).
Conducted in July 1968, the interview of Harold Beverage, a pioneer of early radio and the former director of radio research for RCA Laboratories, represented the very first IEEE Oral History (#001) recorded. This landmark activity launched a new and important program and collection for IEEE, which would subsequently be followed by hundreds of iconic interviews with other leaders and influencers in the engineering, computing and technology arenas.
While coverage of noteworthy individuals and their achievements is often documented in the form of written articles within the world of media, "oral histories" are historical narratives that feature commentary from the individuals themselves captured through the informal recording of a dialogue between interviewer and interviewee.
Considered one of the largest oral history collections of electrical engineers and related technologists in the world, IEEE's Oral Histories collection contains interviews with pioneers across many industry segments. In the computing field, for instance, the collection features interviews with such noted leaders as Konrad Zuse, developer of the electromechanical computer (the "Z3") in the late 1930s, Eleanor Ireland, one of the operators of the Colossus computer, which was used for code-breaking during World War II, Jacob Ziv, co-creator of the Lempel-Ziv compression algorithm, Tim Berners-Lee, inventor of the World Wide Web, and Masatoshi Shima and Federico Faggin, two of the developers of the 4004 microprocessor.
Across other fields, visitors to the IEEE Oral Histories collection will find such notable figures as Gordon Teal, a pioneer in the development of the transistor, inventor George E. Smith, who advanced modern digital imaging, and Vladimir Zworykin, whose iconoscope was central to the development of electronic television. Other captivating interviews include those with Amos Joel, Irwin Jacobs, John Pierce, Raymond Pickholtz, and Andrew Viterbi, whose work helped advance cellular phone and communications technologies, as well as interviews with robotics pioneers Ruzena Bajcsy, Ayanna Howard and Lydia Kavraki.
The IEEE History Center boasts a robust collection of 898 oral histories; of these, 766 are posted on the Engineering and Technology History Wiki (ETHW – https://ethw.org/Main_Page), the IEEE History Center's main platform for publishing its oral histories. The Oral Histories program has made profound impacts on the world over the past 55 years – from providing source material for scholarly journalists, authors, professors, researchers, corporations, and public and government policymakers to being used in prominent television and radio programs and spawning dozens of dedicated books and documentaries.
Offering a "stimulating window into the creativity and thought(s) of fascinating people," according to one Oral History interviewer, IEEE's Oral Histories Program recently added several new interview sessions to its collection on the ETHW. These include oral histories of Dr. Jessica Elzea Kogel, Director of the Office of Mine Safety and Health Research at the National Institute for Occupational Safety and Health, Dr. Donald H. Kraft, whose indelible contributions have advanced the field of text retrieval via fuzzy set theory and genetic algorithms, and Dr. Arogyaswami Paulraj, whose development of multiple input multiple output antenna technology for wireless communications has revolutionized both local area and mobile broadband communications, enabling high-speed access to multimedia services.
Congratulations to the IEEE History Center's Oral Histories Program for 55 years of riveting, revealing, and historic interviews with the industry's most notable leaders. These remarkable reflections are official and unprecedented conversations for field professionals, the individual's own family members, and posterity to treasure.
Helping the IEEE History Center grow this valuable collection and its use is a core objective of the IEEE Foundation 50th Anniversary Celebration. To discuss how you can support this initiative, contact Danny DeLiberato, CFRE at d.deliberato@ieee.org or call  +1 732 562 5446.