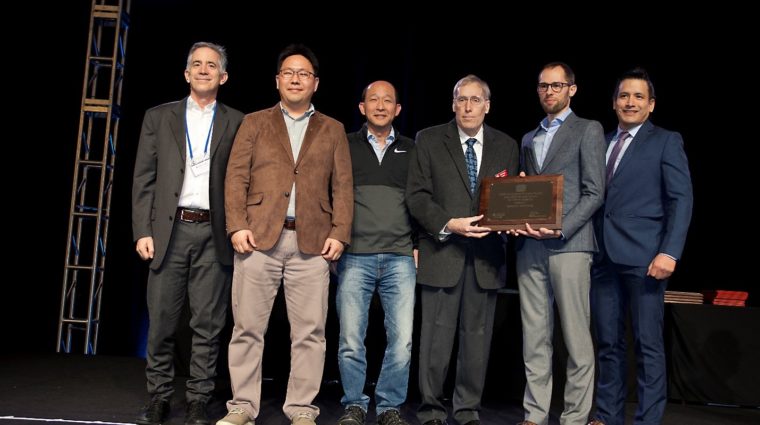 The 2023 IEEE Brokaw Award for Circuit Elegance was awarded to five individuals for their design of a ring amplifier during the International Solid-State Circuits Conference (ISSCC) 2023. The win­ners, pictured, are as follows:
Michael Flynn: Fawwaz T. Ulaby Professor of Electrical and Computer Engineering at the University of Michigan
Yong Lim: Principal Engineer at Samsung Electronics, Hwaseong, South Korea / University of Michigan, Ann Arbor, Michigan.
Un-Ku Moon: Professor, Electrical Engineering and Computer Science at Oregon State University
Benjamin Hershberg: Intel, Hillsboro, Oregon.
Jorge Lagos Benites: Principal Member of Technical Staff at Imec. Leuven, Belgium
Solid-State Circuits Society President John Long is pictured fourth from the left.
Established in 2018, this award was named for IEEE Life Fellow Paul Brokaw. It is generously supported by a donation from the Brokaw Family Foundation to the Paul and Sonja Brokaw Circuit Design & Application Fund of the IEEE Foundation. The goal of the award is to enhance appreciation and encourage innovation of simple, smart, and elegant circuit design. The Award is presented in recognition of a unique, innovative, simple, smart and elegant circuit design, which was created during the past decade and has demonstrated its viability.