Every day thousands of weather balloons are released all over the world, using radiosondes to measure pressure, relative humidity and temperature. These balloons aren't environmentally friendly. After a few hours in the air, a weather balloon bursts and its radiosonde falls to the ground via a parachute. Out of the 75,000 radiosondes launched every year in the United States, only 20 percent are found and returned, according to the National Weather Service. The cost of replacing them adds up.
Amon Schumann, a senior at the Robert-Havemann-Gymnasium school, in Berlin, Germany and winner of the 2022 IEEE Presidents' Scholarship, has invented eco-friendly and cost-effective solutions. Amon's radiosonde for weather balloons is equipped with a solar-powered battery and GPS.
Amon built a coin-size, solar-powered radiosonde that weighs 4.8 grams—far more compact than current models, which weigh about 96 g. The weather balloon he designed can stay in the air longer than traditional models as well. His Small Radiosondes on a Great Mission project was showcased in May at the Regeneron International Science and Engineering Fair held in Atlanta.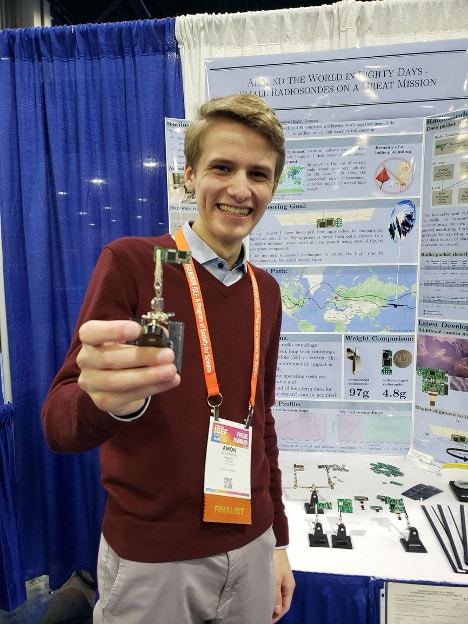 At a special awards ceremony, Amon was caught by surprise when it was announced that his project received the IEEE Presidents' Scholarship. The award was established by the IEEE Foundation to acknowledge a deserving student for a project that demonstrates an understanding of electrical or electronics engineering, computer science, or other IEEE field of interest. The scholarship is administered on behalf of IEEE Educational Activities and is payable over four years of undergraduate university study. Amon also received a complimentary IEEE student membership. Susan K. "Kathy" Land, the 2021 IEEE president, presented Amon with this year's scholarship. Amon says he plans to study electrical engineering at a technical university in Berlin, Germany.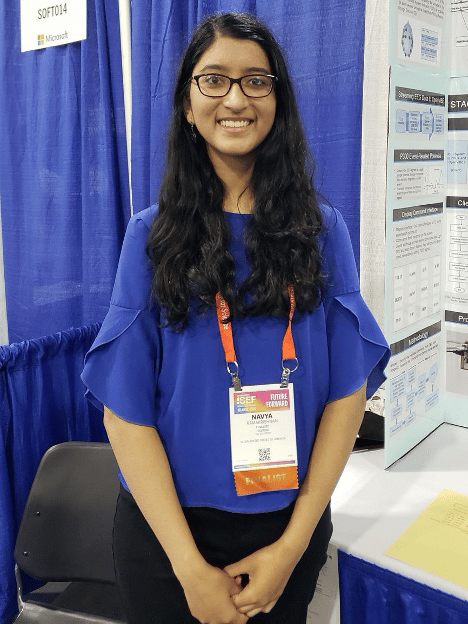 This year's second-place recipient was Navya Ramakrishnan, a senior at Plano Senior High School, in Texas, USA. Her project titled " A Home Automation System for Neuromuscular Disorder Patients Using Brain-Computer Interface" uses a brain-computer interface to help those with paralysis and neuromuscular disorders do household tasks such as turning on a television. Ramakrishnan said she will be attending Harvard University, Cambridge, MA, USA this year to pursue a degree in computer science with a concentration in mind, brain, and behavior.
Adelle Jia Xin Yong, a junior at Westlake High School in Austin, Texas, USA was awarded third place for her Smart Leukemia Labs project. Her portable microscope and diagnostic tool accurately and quickly detects acute lymphoblastic leukemia.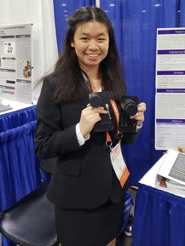 Congratulations to these 2022 recipients! Their initiative, passion and drive to create solutions to problems is inspiring.