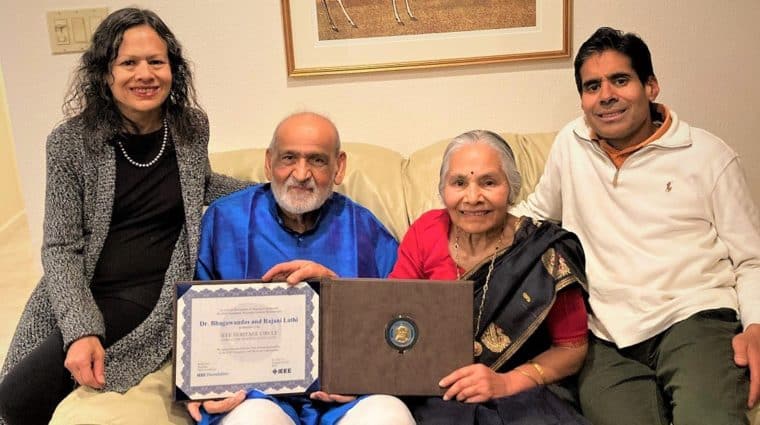 Dr. Bhagawandas Pannalal "B.P." Lathi, his wife, Rajani, pictured along with their daughter, Anjali Lathi, and son, Pandit Lathi, are holding their IEEE Foundation documentation for their charitable work. Dr. and Mrs. Lathi gave generously to the IEEE Foundation in late 2022 when they established the Bhagawandas and Rajani Lathi Fund. This initiative supports authors of outstanding electrical engineering textbooks awarded through the IEEE Education Society. B.P. is a prolific author of electrical engineering books and shared this about his motivation for establishing the fund:
"I wanted to contribute to the IEEE community by enhancing the recognition and awards for creating well-written and pedagogically sound textbooks. A valuable textbook is equal or even more important than the best instructor, allowing a student to study on their own. We felt that such an award is urgently needed to encourage and appreciate authors who write excellent textbooks."
B.P. has understood the benefits of self-directed study since he started his undergraduate program at Pune University, India, in 1951. He studied electrical engineering with an emphasis on electronics and communication. Electrical engineering in India at this time was power engineering exclusively, and very few instructors were familiar with newer subjects like electronics and communication. Yet, his instructor was required to teach these topics.
Unsatisfied with his instructor's explanations, B.P. turned to the assigned British textbook, but he found British books challenging to understand. He researched American textbooks, which were superior in pedagogy, but the costs were about twice as much as the British textbooks.
"It was my helplessness and frustration at this time that I resolved if and when I complete my studies, I will write self-explanatory books, so students can study with them on their own without any outside help," explains B.P. "This is the genesis of my resolve to write better textbooks for students. I dedicated my entire academic career to this goal."
B.P. and Rajani hope their award will increase awareness of the importance of well-written, self-explanatory textbooks. They believe good resources can save students hundreds of wasted hours of frustration and increase their appreciation of the material. They chose IEEE as the home of this fund because "IEEE is one of the most respected and widely circulated scholarly platforms for electrical engineers and technologists."
The Lathis encourages potential donors to consider the aspects of electrical engineering they value and improve the excellence of those areas by giving to the IEEE Foundation. They provided their generous gift using their Donor Advised Account (DAF). This charitable account allows people to donate cash or assets to a public charity that manages a DAF program. It offers several tax and planning benefits to those who want to give back. Help support IEEE educational programs for future generations of technologists and engineers like the Lathis and learn about different giving methods by visiting the IEEE Foundation.