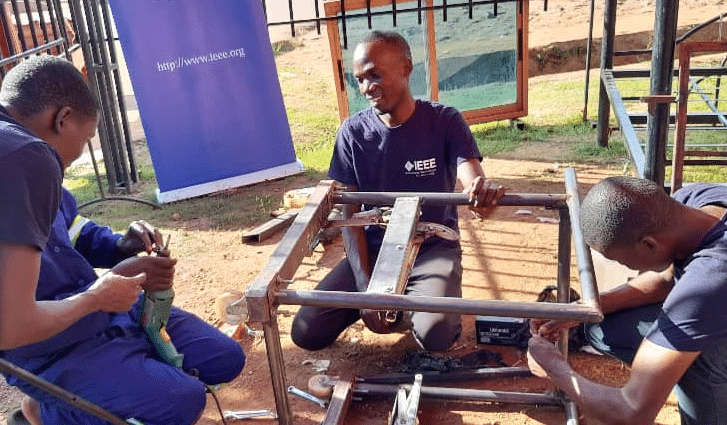 The United Nations Sustainable Development Goals (SDG's) provide a pledge to "leave no one behind." This pledge brings visibility to the idea that individuals with disabilities or differing abilities should have accessible services and accommodations to be able to participate in community activities.
Many people with disabilities in Ugandan communities face challenges accessing and using sanitation and toilet facilities in schools, workplaces and community spaces. The main challenge is that most toilets used in Ugandan communities are communal pit latrines, whose surfaces are difficult to clean and do not allow users to sit down. This puts people with disabilities at increased risk of diseases like dysentery and candidiasis, among others.
The EPICS in IEEE Uganda team is working on a smart-toilet technology project which will enable persons with disabilities to access toilets in a hygienic manner and therefore reduce the spread of disease. The smart toilet will automatically adjust itself to the user's height and position with a press of a button before use. The technologies used to create the smart toilet include electronics design and testing, metal fabrication and joinery, mechanical design and fabrication, and the systems integration of the above-stated technologies.
This project is supported by the EPICS in IEEE program and it involves a team of high school students, engineering students, IEEE Uganda Section members/volunteers, and The Uganda National Association of the Blind (UNAB).
"The participating team and volunteers have found the project quite interesting and [the project] has inspired them to continue with science and technology career paths," said Project Lead Nakayenga Lilian. "The team has learned the value of teamwork in bringing together different skills to apply practical knowledge to design solutions for their community." In addition, the volunteers and students working on the project have found that the opportunity to meet and interact with the community members is a useful way to find better solutions to problems in the community. The local community benefits by having a chance to work closely with the students and volunteers to identify how technology and engineering solutions can address the real challenges they face.
The project team is grateful to the EPICS in IEEE program for supporting this project with a grant of $4,050. This project is one of the 23 service learning projects selected as part of the EPICS in IEEE Access and Abilities Competition. The Competition was made possible thanks to funding from the Jon C. Taenzer Memorial Fund established by the IEEE Foundation. The Fund was made possible by the Jon C. Taenzer Memorial Fund established by the IEEE Foundation in 2019 with a generous bequest from the Estate of Jon C Taenzer, an IEEE Life Senior Member, who passed away in 2019.
The team hopes that once the project is complete, the results can be replicated in other communities, especially where people have limited mobility or other disabilities.