1 May 2023
|
Awards, Board, Cash Prize, Conference, Eta Kappa Nu, History, HKN, Honorarium, Life Fellow, Medal of Honor, PES, Region 8, Scholarship, Signal Processing, Speaker Fee, Young Professionals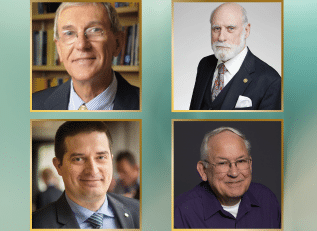 Have you ever been awarded a cash prize or speaker fee and wondered how you could make a lasting impact with that money? Award Recipients and Conference Speakers who receive cash prizes or speaker fees can choose to donate the prize to one or more of the IEEE Foundation designated funds, including the IEEE Foundation Fund, History Center Fund, Life Members Fund or any of the 250+ funds administered on behalf of IEEE organizational units.
Each year, the IEEE Awards Board recommends a select group of people to receive IEEE's prestigious honors. This month, the IEEE Foundation would like to thank four recent IEEE Medal winners who have donated their prize. José M. F. Moura, Vint Cerf, Marko Delimar and Pete Sauer are true role models for their generosity. Each of these four donors has demonstrated a strong commitment to fostering progress for future generations and inspiring other award recipients to do the same, through their supportive and impactful actions.
José M. F. Moura
When José received the IEEE Jack S. Kilby Signal Processing Medal this year "for contributions to theory and practice of statistical, graph, and distributed signal processing", he chose to give back through the IEEE Foundation to the IEEE Signal Processing Student & Young Professional Fund and IEEE Foundation Fund. José is happy to contribute his prize money to support scholars with their on-going educational needs. He says of his gift, "this enables undergraduate and graduate students to take part in-person in conferences and technical meetings, giving students the opportunity to present their work and participate in discussions enhancing their professional development."
Vint Cerf
Vint supports the work of IEEE through multiple IEEE Foundation annual campaigns, supporting the IEEE History Center and the IEEE-Eta Kappa Nu Fund. When asked about why Vint chose to donate his 2023 award money to advance the IEEE Awards Program, he said, "IEEE prizes, medals and awards highlight the successes of our scientists and engineers and reminds us of the importance of STEM work. I was happy to return my prize money to help IEEE continue this important work."
Marko Delimar
His interests include electric power and energy systems, simulations and modelling, intelligent systems and engineering education. His current research focuses on analysis and design of smart grid architectures and large-scale integration of renewable energy sources.
Marko generously gives to the IEEE Foundation Fund, IEEE-Eta Kappa Nu Fund and IEEE Region 8 Fund. "As an IEEE volunteer for 30 years, I have been fortunate enough to witness and participate in IEEE programs, which have positively affected the world. Several of these programs are donor supported and rely on the generosity of philanthropists and technology enthusiasts for success," Marko said. "Thousands of IEEE volunteers worldwide generously give their time, talent and treasure to these programs, each making the world a better place. I believe donating the cash prize for volunteer service, which further supports and advances innovative programs – simply is – the right thing to do."
In Loving Memory – Pete Sauer
In a show of incredible generosity, Pete immediately donated his cash prize to the IEEE Power & Energy Society Scholarship Plus Initiative (PES S+), a program which he co-founded and provides financial scholarships to deserving engineering students within the power and energy track. "I was very honored to have been selected for the IEEE Nikola Tesla Award and understand how IEEE can only continue doing this type of important work with contributions," Pete said of his decision to donate his cash prize to PES S+. "I've been blessed with a very rewarding career in electrical engineering that was made possible with the help of IEEE every step of the way, so for me it was an easy decision to use the funds that came with the award to further help IEEE and the Scholarship Plus Initiative in particular." Pete added, "I hope that my small contribution will encourage others to also support this initiative and help grow the engineers of the future."
All four of these Cash Prize donors have taken supportive and meaningful actions that pave the way for future generations and encourage other prize winners to follow in their footsteps.
The IEEE Foundation routinely handles arrangements for award recipients who desire to 'repurpose' their cash prize for a good cause. If you wish to donate your cash prize or speaker fee, and perhaps avoid the taxable income, please visit our website.
To stay up to date on Foundation news and impacts, we invite you to follow us on LinkedIn, Twitter and Facebook or sign up to receive our newsletter. To learn more about the innovative programming that the IEEE Foundation supports, explore our website.