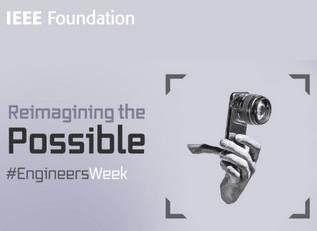 This month, in conjunction with IEEE and millions of other dedicated engineers, the IEEE Foundation celebrates National Engineers Week (E-Week) 20-26 February 2022. Founded in 1951, Engineers Week always falls on the week that encompasses George Washington's birthday (22 February 1732), who many consider to be the United States' first engineer, due to his survey work.
This year's E-Week theme is 'Reimagining the Possible,' with a focus on engaging the next generation of innovators, the Foundation is excited to do its part to ensure a diverse and well-educated workforce.

2022 E-Week Theme: Reimagining the Possible

From green buildings to fuel-efficient cars, IEEE members and donors work together to spark innovation, opportunities and access to tech that positively impacts the world in which we live.
"While IEEE engineers reimagine the possible in their day-to-day professions and careers, we are honored that they put their values and generosity to work at IEEE Foundation, through the 200+ member-led initiatives that celebrate the profession, innovation, education and rich heritage of engineering," said Sarah A. Rajala, IEEE Foundation Board of Directors Vice President of Development.

A Year-Round Endeavor

At the core of IEEE Foundation's purpose, our four pillars – Illuminate, Educate, Engage and Energize – guide us to 'Reimagining the Possible' year round. Below are a few examples of how IEEE members have fulfilled the ideals of those pillars over the years, memorialized on the IEEE History Center's Engineering and Technology History (ETHW) wiki.Illuminating the Possibilities

To reimagine what's possible, one must first recognize that unchallenged obstacles can cast a shadow over an otherwise bright future. That is why one of the IEEE Foundation's pillars is to Illuminate the possibilities of technology to address pressing global challenges. One IEEE Life Fellow whose work embodies this effort is Dr. Victor B. Lawrence. Dr. Lawrence is the architect and lead engineer behind AT&T's first 2400 bps full-duplex modem at Bell Laboratories and is an avid supporter of technology exchange programs. He has personally championed the effort to bring fiber optic connectivity to Africa in order to improve the communications infrastructure of some of the world's poorest countries. His wide-ranging work demonstrates just a few examples of how IEEE members embody the Illuminate pillar.

Educating the Next Generation

IEEE Foundation knows first-hand that the work of future-making is never done. That is why we focus on educating the next generation, to ensure a robust, empowered workforce. Leah H. Jamieson, former IEEE President and President of the IEEE Foundation from 2012 to 2016, co-founded and is a director of the Engineering Projects in Community Service (EPICS) undergraduate engineering design program at Purdue University. EPICS matches teams of engineering students with local community service programs to define, design, build, test and support projects that improve their community. The program has now been adopted by 17 other universities across the US and at IEEE. It's programs like these that illustrate how, together, engineering and Education create positive change both inside and outside the classroom.
Engaging a Wider Audience

As with any field, we know we need to cultivate an interest in engineering and its history from an early age, across a diverse audience. The first female president of IEEE, Martha Sloan, an engineering professor at Michigan Technological University, oversaw an Engineers Week event in the early 1990s when IEEE challenged middle school students nationwide to design a simulated city, create a model, and write a paper on what they chose to be the primary source of electricity and why. IEEE arranged for then Secretary of Energy, Hazel O'Leary, to judge the competition and facilitated the winning team's trip to the White House, where they presented their city to President Bill Clinton. Events like this continue to be a hallmark of the type of work reflective of the Foundation's Engage pillar.
Energizing Innovation

Engineers Week is a platform to highlight the breakthroughs and achievements of engineers; a class of professionals we know to be integral to everyday lives. Lack of recognition and awareness can stall growth and recruitment in any field, which is why IEEE Foundation focuses on energizing innovation by celebrating technological excellence and contributions within the field. In step with this ideal, IEEE awards one engineer every year with the IEEE Medal of Honor, granted for an exceptional contribution or extraordinary career in the IEEE fields of interest.
One recipient, Dr. Thomas Kailath, is an IEEE Life Fellow and Hitachi America Professor of Engineering, Emeritus at Stanford University. Contributions by him and his over ninety Ph.D. students and postdoctoral scholars include algorithms for feedback communications, universal estimator-correlator detector structures for random signals in noise and the concept of displacement structure leading to fast algorithms in many fields. Much of his early work actually outpaced what could even be implemented at the time, but as technology advanced, Dr. Kailath and his students were able to successfully address industrial issues in areas such as optical lithography and multiple antenna wireless communications. A true innovator, he was awarded the IEEE Medal of Honor in 2007.
Going Beyond E-Week

Through IEEE Foundation, we are able to work with members and donors every day to realize their vision on what reimagining the possible means for this generation and the next. In so many ways, what 'Reimagining the Possible' is really asking is: 'what's next?' We feel honored to answer that call – in step with IEEE donors and members – as they address some of the world's worthiest, and most pressing challenges.
Join Us

Consider supporting the Foundation with a donation, or by learning more about our four pillars that house more than 200 programs and funds. Together, we look forward to reimagining what's possible and advancing IEEE's definition of where technology and philanthropy intersect.