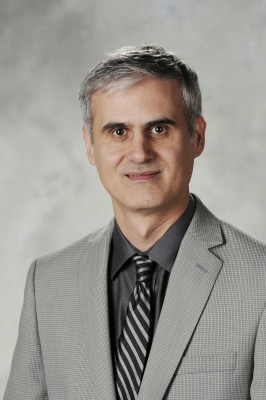 Professor Azad Naeemi is the first ever recipient of the IEEE Solid-State Circuits Society James D. Meindl Innovators Award.
Naeemi is Professor at Georgia Institute of Technology, Atlanta, GA. His research crosses the boundaries of materials, devices, circuits, and systems investigating integrated circuits based on conventional and emerging nanoelectronic and spintronic devices and interconnects.
The James D. Meindl Innovators Award was established in 2021. This award supports innovation in the field of solid-state circuits by funding projects that build excitement in the field and encouraging participation among future generations.
Naeemi received his B.S. degree in electrical engineering from Sharif University, Tehran, Iran in 1994, and his M.S. and Ph.D. degrees in electrical and computer engineering from Georgia Tech in 2001 and 2003.
Prior to his graduate studies (from 1994 to 1999), he was a design engineer with Partban and Afratab Companies, both located in Tehran, Iran. He worked as a research engineer in the Microelectronics Research Center at Georgia Tech from 2004 to 2008 and joined the ECE faculty at Georgia Tech in fall 2008.

He has received the IEEE Electron Devices Society (EDS) Paul Rappaport Award for the best paper that appeared in IEEE Transactions on Electron Devices during 2007. In addition, he has received an NSF CAREER Award, an SRC Inventor Recognition Award, and several best paper awards at international conferences.
In 2021, IEEE Solid-State Circuits Society (SSCS) established the IEEE SSCS James D. Meindl Memorial Educational Fund of the IEEE Foundation, in honor of Professor James D. Meindl. The Fund provides long-term support to enable SSCS to nurture, encourage, and celebrate students and early career innovators in the field of solid-state circuits.
Professor Meindl, a giant in the world of semiconductors and among the founding fathers of Silicon Valley, passed away on 7 June 2020. He was an active member of the IEEE Solid-State Circuits Council, the predecessor of the SSCS. He was a Past President of the Society, served as the founding editor of the IEEE Journal of Solid-State Circuits, and chaired the 1966 and 1969 International Solid-State Circuits Conference. For his contributions to microelectronics, the IEEE Life Fellow received the 2006 IEEE Medal of Honor.
Meindl had an infectious spirit and was passionate about nurturing future generations of solid-state circuits innovators. Mentoring over 90 Ph.D. candidates during his time at Stanford, RPI, and Georgia Tech, Meindl was a trusted confidante and had a profound impact on his students.
In total US$431,000 has been donated to support this important fund, with 31 individual donors, most of whom were students and colleagues of Prof. Meindl, giving more than US$231,000. Donate today and perpetuate the memory of Prof. James Meindl and his passion for mentoring students, his entrepreneurial spirit, and support projects that have real-world impact to industry and humanity.