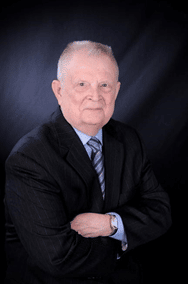 Heirman's estate gifts honor his lifelong legacy and will indelibly support critical IEEE initiatives
Though industry giant Donald (Don) N. Heirman sadly passed in October 2020 at the age of 80, the pioneer in the field of electromagnetic compatibility (EMC) not only left an indelible legacy of innovation behind him, he provided for the field's future success and forward motion through his generous estate gifts to IEEE.
After receiving his BSEE and MSEE degrees from Purdue University (West Lafayette, IN, US) in 1962 and 1963, respectively, Heirman began a more-than-a-half-century-long career that would involve monumental contributions to the field of EMC. Among them, the industry leader widely known as "Mr. EMC Standards" spent more than 30 years at Bell Laboratories/Lucent Technologies, where he headed up the Corporation's major EMC and regulatory test facility and its participation in The American National Standards Institute (ANSI) accredited standards and international EMC standardization committees. He chaired or was a principal contributor to the US and international EMC standards organizations, including ANSI, IEEE, and the International Electrotechnical Commission (IEC), and served as president of the IEEE Standards Association (SA), and as a member of the IEEE Board of Directors. A retired Commander in the US Navy, Heirman was an IEEE Life Fellow, a Life Member of the IEEE EMC Society (EMCS), and a member of its Board of Directors. In 2018, he received the prestigious IEEE Richard M. Emberson Award for Standardization of Electromagnetic Compatibility, reducing low and radio frequency noise in telephone circuits, and designing and operating compliance test facilities over the course of 30 years at Bell Labs. In his acceptance speech, Heirman acknowledged the privilege and honor it has been to be part of IEEE for 50+ years.

Upon Heirman's retirement from Bell Labs in 1997, he started his own consulting business, Don Heirman Consultants, in which he specialized in standards education and training in the field of EMC and remained active until his death.
A role model for young engineers and pre-engineers in all fields, Heirman was a champion of education, the preservation of the history of technology, and ongoing innovation in the engineering and EMC disciplines – a commitment that was reflected by his generous gifts to the various IEEE program, initiatives and activities he held dear upon his passing. Targets of his estate gifts include the following:
The IEEE History Center, to advance its work to preserve the history of IEEE by supporting the cataloging of the history of IEEE Society contributions, including those of the IEEE EMC Society
The IEEE Standards Association, to support the continuation of joint projects with the IEEE Educational Activities Board that expand, encourage, and promote IEEE's Standards Education Program
The IEEE Electromagnetic Compatibility (EMC) Society, to provide for perpetual support that will enable those with limited travel funding to actively participate in EMC's standardization program
IEEE- Eta Kappa Nu (HKN) Chapter at Purdue University, to support his beloved HKN (the honor society of IEEE) at his alma mater
The IEEE Foundation, to support its broad range of IEEE initiatives.
In his IEEE History Center oral history interview conducted in February 2015, Heirman reflected on his long, colorful and productive career, confiding that "I've been around a long time — 50 years in the business — and I wouldn't take anything back."
Don Heirman's well-indexed collection of paper materials, photographs and artifacts were left posthumously to IEEE History Center Archives. "The Don Heirman collection provides a unique look at standards at IEEE, as well as the operations of the IEEE Electromagnetic Compatibility Society, over the course of more than 30 years," said Michael N. Geselowitz, Ph.D., Senior Director of the IEEE History Center.
IEEE sincerely thanks Don Heirman for his renowned contributions to the industry throughout his life and for all that he continues to give to future generations through his generous legacy estate gifts, all of which will pave the way for continued innovation, growth, and success in the engineering field. The IEEE Foundation proudly recognizes Donald N. Heirman as a Forever Generous member of the IEEE Goldsmith Legacy League.