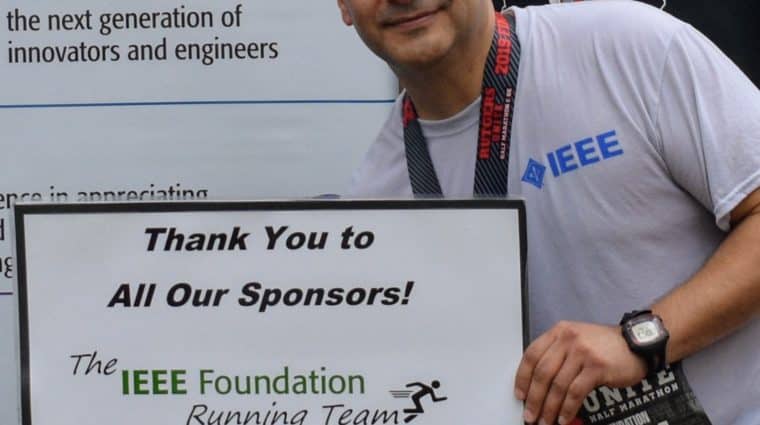 Louis Vacca
MEMBER GRADE: Member/Employee

As Manager of Manufacturing, Distribution & Reprints, IEEE-Publishing Operations in Piscataway, NJ, USA, Lou Vacca's work with IEEE Foundation's publications, such as the Foundation Focus newsletter and Annual Reports, piqued his interest in the mission and inspired him to help those in need around the world.
"As an IEEE employee, who better to support than the IEEE Foundation right within our own walls?" he said. Though he'd been aware of IEEE's services and global impact since joining the organization in 2008, "it wasn't until participating in an outside running event with fellow staff members that it occurred to me to leverage that camaraderie and support the IEEE's fundraising efforts in some way," he said. "The IEEE Smart Village initiative really resonated with me because it can lead to incredibly impactful outcomes for an individual or community — including improved medical attention/service, economic resilience, self-sufficiency, education, labor development, security/safety, and, most importantly, the hope for a better tomorrow for so many."
Vacca is excited that his donations to IEEE Smart Village can help provide citizens worldwide with access to electricity and entrepreneurial opportunities. "Renewable, clean electricity can drive so many benefits for its users and it's gratifying to support IEEE Smart Village based on its far-reaching impact and contribution to the creation of stronger global communities," he said.
"Whether supporting engineering scholarships, raising awareness for engineering in classrooms, providing renewable electricity, or supporting volunteers and local underserved community programs, many key programs need our support," Vacca confirmed of the value of donating to IEEE. "The IEEE Foundation offers many programs that benefit education and advance technology and it's important and rewarding to become a participant/ambassador to our IEEE community."