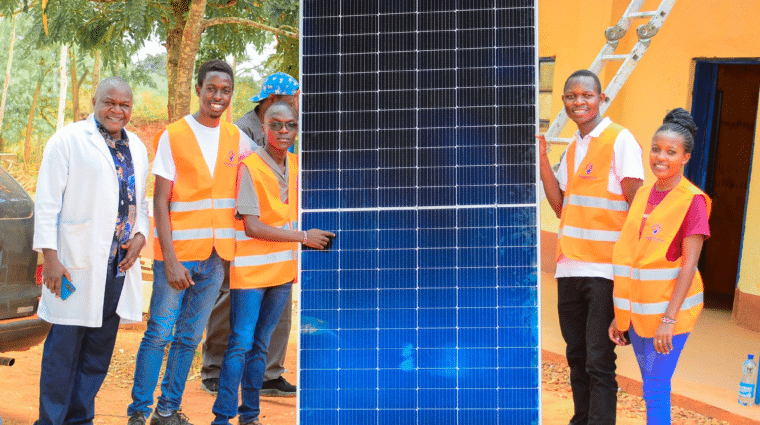 Though individuals eventually pass away, their actions can have a far-reaching impact on others around the world long after they're gone. Such is the case for Dorothy Percival, widow of late IEEE Life Member Alan Percival, whose generous bequest to the IEEE Foundation upon her passage in October 2021 enabled the establishment of the new Humanitarian Technologies Board (HTB) Endowment Fund, that will allow an expanded number of beneficial humanitarian projects to be undertaken by IEEE globally.
"The IEEE Humanitarian Technologies Board inspires and empowers IEEE volunteers around the world to engage in impactful humanitarian technology activities at the local level," shared Lwanga Herbert, IEEE Humanitarian Technologies Board Chair. Herbert further explained, "This donation will enable future engineers and technologists to utilize their knowledge to design and deploy technological solutions that solve existing global humanitarian challenges faced in local communities around the world."
The mission of the elevated new HTB (previously known as the IEEE Humanitarian Activities Committee) is to support impactful, ethically informed volunteer-led initiatives and mutually beneficial partnerships. HTB also strives to inform policies that harness technology and innovation to address societal challenges, including disaster recovery, in a responsive, effective and sustainable way.
The IEEE's HTB and its Special Interest Group on Humanitarian Technology (SIGHT) Program have awarded nearly US$3.3 million to 507 humanitarian technology projects and events since 2013 so that IEEE Members can implement them in their local communities. Per eligibility requirements, these projects address one or more of the United Nations' 17 Sustainable Development Goals, which involve everything from hunger, poverty, health and education to gender equality, clean water and sanitation, economic growth, climate action, clean energy, peace, justice and more. Volunteer teams partner with local governments, NGOs, schools and universities, neighborhood associations, and/or companies to deploy solutions effectively.
Making An Indelible Difference
Through the new Humanitarian Technologies Board Endowment Fund, launched in August 2023, US$1 million of Percival's generous estate gift will augment the HTB's previous project budget and support the growing demand for and importance of humanitarian initiatives within the IEEE community by enabling the HTB to fund approximately 4-6 more humanitarian technology projects annually.
"On behalf of the HTB, we are grateful for this bequest, which will allow us to continue driving humanitarian activities and creating positive social and humanitarian impact through technology," said Mariela Machado Fantacchiotti, Senior Director, IEEE Humanitarian Technology Activities. Looking ahead, "our hope for the HTB is to continue to thrive and achieve tangible results in terms of increasing awareness of the roles of engineering in humanitarian work, providing training, and supporting grassroot projects that contribute to sustainable development goals globally," Fantacchiotti added.
According to IEEE Foundation President Ralph Ford, all donations to the HTB and IEEE Foundation will make an indelible difference in the lives of others. "Donating to any of the IEEE Foundation's donor-supported programs is a way to align your personal values with meaningful initiatives that further IEEE's mission of advancing technology for the benefit of humanity," said Ford.
As for the far-reaching impact of Percival's generous estate gift, Sampathkumar Veeraraghavan, 2023 Past HTB Chair said, "we're excited about the establishment of the Humanitarian Technologies Board Endowment Fund, which is a major milestone in the partnership between the IEEE Foundation and the HTB. As a longtime IEEE volunteer and donor, this Fund will empower the HTB to deliver key opportunities to inspire, connect and engage IEEE members on impactful grassroots programs for years to come."
For more information on the IEEE Humanitarian Technologies Board, visit https://htb.ieee.org/. Learn how you too can leave a bequest to the IEEE Foundation to make your lasting impact.