Making a Difference: Celebrating the Impact of the IEEE Foundation COVID-19 Response Fund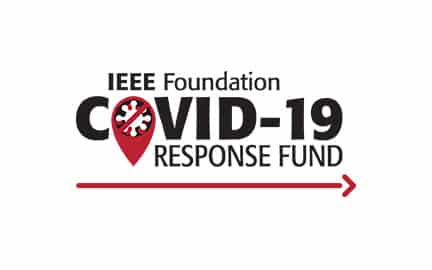 British mathematician Ada Lovelace once famously said that "your best and wisest refuge from all troubles is in your science." She couldn't have known then how much her words would resonate more than a century and a half later during the COVID-19 pandemic.
One year ago, in April 2020, the IEEE Foundation established its COVID-19 Response Fund with Lovelace's sentiments in mind. Since then, a total of 242 donors recognized the need to respond to the "troubles" at hand, and as of today, the fund has received US $50,665 in donations (including a dollar-for-dollar match by the Foundation) — surpassing its goal of US $50,000.
Thanks to the generosity, drive and dedication of so many, the IEEE Foundation COVID-19 Response Fund has been able to make possible a variety of different projects that support IEEE's mission and strategic goals while helping to respond to the imminent need worldwide during these turbulent times.
"The COVID-19 pandemic confronted the globe with a staggering set of 'troubles,' both immediate and long-term, but thankfully the IEEE community doesn't shy away from complex challenges," shared Karen Galuchie, Executive Director, IEEE Foundation. "We're extremely grateful for the generosity and determination of our donors and the opportunity to fund projects that address COVID-related challenges on so many levels throughout the world."
Following are some of the major projects supported by the COVID-19 Response Fund that are helping to advance technology for humanity and make an indelible impact in our fight against the global pandemic.
Telehealth Technology for IEEE Smart Village
The COVID-19 Response Fund provided US$14,000 to IEEE Smart Village (ISVx) toward project which aims to provide access to sustainable electricity to use telehealth capabilities to improve access to healthcare and pandemic response in medically underserved areas. Most immediately, ISVx will collaborate with Rotary International and the Global Telehealth Network (GTN), a nonprofit organization of volunteer physicians and psychologists who provide free, real-time, online video consultations for health workers in medically underserved areas, on telehealth and COVID-related projects located in Uganda and Kenya.  
Measuring the Impact of COVID-19 on Electricity Demand by IEEE DataPort™
With COVID-19 shutdowns materially affecting global electric demand, the COVID-19 Response Fund provided US$5,000 to IEEE Technical Activities to fund an IEEE DataPort™ grant, which will be presented to the winner of a contest focused on analyzing the impacts of COVID-19 on electricity demand. According to Mostafa Farrokhabadi, Technical Activities lead volunteer and Associate Editor of IEEE DataPort (a dataset storage and search platform), the IEEE DataPort Day-Ahead Demand Forecasting: COVID-19 Impact Mitigation Dataset Upload Contest "has brought together high-profile forecasting experts from all over the planet to work on real-world data and develop practical solutions to the adverse impact of COVID-19 on electricity demand forecasting accuracy. The findings have a significant impact on the power systems' ongoing operational costs and emissions, as these are highly dependent on an accurate projection of future demand and the scheduling of an appropriate mix of generation resources accordingly." A total of 239 unique entrants participated in the competition.
Grassroots Activities in Two Communities by IEEE HAC and IEEE SIGHT
The IEEE Humanitarian Activities Committee (HAC) and the IEEE Special Interest Group on Humanitarian Technology (SIGHT) received US$10,000 from the COVID-19 Response Fund to support two grassroots humanitarian technology and sustainable development projects that address COVID-19. In the first project, the IEEE Columbus, OH, US section, along with local community groups and eight nonprofits, is driving the development of a self-sustaining urban farm (the 'Milo Grogan 365 Fresh Produce Farm') in the city's Milo Grogan neighborhood, whose primarily poor and African-American residents have limited access to fresh produce and have been disproportionately affected by the virus. In the second project, a team of volunteers provided a series of virtual workshops to train 37 individuals from 21 cities in different regions of Indonesia to stop the spread of misinformation about COVID-19. After learning how to recognize and classify false information, deliver appropriate responses, and utilize technology to prevent the spread of misinformation, the 37 'Women Against Disruptive Information' (WADI) trainers each shared the information with approximately 10 people, allowing for nearly 400 people to be directly impacted by the project. Read more information on both projects.
Remote Instruction Event for Engineering Educators by EA and EdSoc
With academic instructors forced to quickly transition their teaching methods from an in-person classroom model to a fully online approach at the hands of the pandemic, IEEE Educational Activities (EA) and the IEEE Education Society (EdSoc) received US$5,000 from the COVID-19 Response Fund to support a week-long remote instruction online event for university faculty worldwide. Held from 27-31 July 2020 and attended by more than 5,000 engineering faculty daily, the free event equipped attendees with research-driven information designed to help them provide effective online engineering education to their students now and in the future. "Thanks to support from the COVID-19 Response Fund, the Remote Instruction event helped us identify a real need in the market for instructional resources for teaching faculty in IEEE fields of interest," said Jennifer Fong, Director of Education Product, Sales and Marketing, IEEE Educational Activities. According to Fong, IEEE volunteers from EA and EdSoc further collaborated on the creation of the 'Teaching Excellence Hub', a new portal launched this April that will provide articles, links to events, and other beneficial resources designed to help university-level educators to improve their teaching skills.
Funding for IEEE COVID-19 News & Resource Hub by IEEE Spectrum
Understanding that 'information is power,' IEEE Spectrum received US$10,000 from the COVID-19 Response Fund to support its work in sharing updates through the IEEE COVID-19 News and Resource Hub. As a centralized source of IEEE stories and resources focused on the pandemic, the Hub provides listings for IEEE virtual events, access to free IEEE resources and articles featuring IEEE Members on the front lines of the pandemic. Logging 1.74 million unique visitors and publishing 210 posts as of 29 March 2021, popular articles on the Hub have included features on how technology will help us prepare for the next pandemic as well as author Mark Anderson's article titled, "Has the Summit Supercomputer Cracked COVID's Code?"
Special Campaign for IEEE REACH by IEEE History Center and IEEE REACH
Given the heavy online direction that academia was forced to take during the pandemic, the IEEE History Center and IEEE REACH ("Raising Engineering Awareness through the Conduit of History") received US$3,390 from the COVID-19 Response Fund to support a special marketing campaign aimed at promoting IEEE REACH as an online resource for educators. By promoting the program directly to STEM and Social Studies teachers, the program witnessed a 157% increase in new users between the 1st and 2nd quarters of 2020. Among other comments, a teacher in North Carolina described the campaign and availability of REACH resources as "a blessing" for teachers striving to engage their students in engineering-related material, especially in an online environment.
The IEEE Foundation extends sincere thanks to all donors who contributed to the COVID-19 Response Fund as well as all IEEE volunteers working tirelessly to make a difference through pandemic-related initiatives around the globe. Together, we can have a positive and indelible impact on communities worldwide.