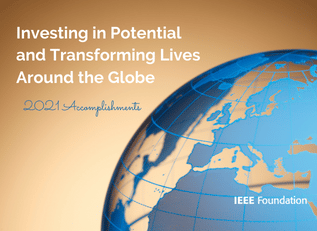 We proudly recall the ways IEEE Foundation served as the IEEE philanthropic partner during 2021 and enter 2022 with a sense of achievement and excitement for the future. In the December 2021 "A Year in Review – Thanks to You" edition of this e-newsletter, we shared a few highlights of the IEEE Foundation's work and path forward for 2022. This month, we focus on the accomplishments of many of the IEEE programs, supported by donors like you, that Illuminated, Educated, Engaged and Energized human potential.
IEEE programs illuminate the possibilities of technology by using it to address global challenges.
IEEE programs educate the next generation of innovators and engineers

Selected 72 high-achieving undergraduate electrical engineering students from 40 universities across USA and Canada interested in pursuing a career in power & energy as the 2021-22 IEEE PES Scholars. Thirty of these scholarships were made possible thanks to our newest Presidential Level supporter the Hoveida Family Foundation. This year's group of PES Scholars brings the total number of scholarships awarded by IEEE Power & Energy Society Scholarship Plus Initiative since its inception to 1,881.
Equipped social studies and STEM pre-university educators from around the world with the knowledge to leverage the free IEEE REACH lesson plans, videos and hands-on activities to elevate their students' technological literacy. More than 13,000 users from 160 countries accessed the REACH website during 2021 representing a 15.1% increase from 2020.
Invested in the advancement of young investigators by awarding grants like the inaugural IEEE NPSS Edward J. Hoffman Early Career Development Grant Award to Émilie Gaudin, a postdoctoral researcher at the Université de Sherbrooke in Quebec, Canada and the 2021/2022 Myron Zucker Student-Faculty Grants to teams from Lakehead University, in Thunder Bay, Ontario, Canada and University of Kentucky, Lexington, KY, USA.
IEEE programs engage a wider audience in appreciating the value and importance of engineering and technology.
Dedicated fourteen IEEE Milestones including the 3 Gravitational-Wave Antennas conducted in three locations with four Nobel Prize winners as speakers, Folsom Powerhouse the birthplace of the AC Grid in Sacramento, CA, USA and Multiple Silicon Technologies on a Chip recognizing Bipolar-CMOS-DMOS (BCD) technology in Agrate Brianza, Italy.
Encouraged research into and study of the history of technology through initiatives like the IEEE Life Member History Fellowship awarded in 2021 to Susannah Glickman a Ph.D. candidate in the American History track at Columbia University, New York, NY, US and the IEEE Elizabeth & Emerson Pugh Scholar in Residence at the IEEE History Center awarded to Breanna Lohman, a doctoral student at the University of Toronto, Canada.
Enhanced and expanded the source material and resources available on the Engineering & Technology History Wiki (ethw.org) for historians and the public to explore through the addition of 20 oral histories with technology icons, 50 topic articles and 25 first-hand histories.
Provided opportunities for IEEE Life Members to remain active, involved and vital through the establishment and activities of IEEE Life Member Affinity Groups (LMAGs) from around the world. Ten new LMAGs were added during 2021 bringing the total to 118.
IEEE programs energize innovation by celebrating technological excellence.
The role of IEEE Foundation is to translate your donations into social impact. By connecting 200+ member-led initiatives with financing, expertise and philanthropic guidance, our goal is to put efforts where philanthropy and technology intersect. Thank you for your role in the success of 2021. The philanthropic investment of your time, talent and treasure allowed us to enhance IEEE programs that invest in potential and transform lives around the globe. Thank you!