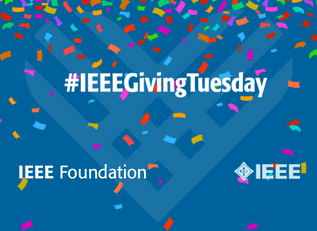 The IEEE community truly answered the call on #IEEEGivingTuesday. This year, hundreds of IEEE Members and friends came together to benefit IEEE and IEEE Foundation philanthropic programs. The generosity was unparalleled and the 2021 donors surpassed last year's outstanding giving.
Each gift illuminates, educates, engages and energizes programs that address global challenges through technology. This year, more than 500 #IEEEGivingTuesday donors gave almost US$125,000. That first US$12,5000 given was doubled thanks to a challenge match funded by two anonymous donors.
Supporters were able to choose a program to benefit, and when a program reached 30 unique donors they unlocked a US$500 grant from the IEEE Foundation – in addition to the total given by individuals and the challenge grant. The following programs met or exceeded the 30 donor threshold:
It is exciting to have a network of dynamic programs that make a difference around the world. If you would like to support them, there is still an opportunity to give before the end of 2021. Make your gift today. In the coming year, we look forward to sharing the impact that #IEEEGivingTuesday philanthropy has enabled!