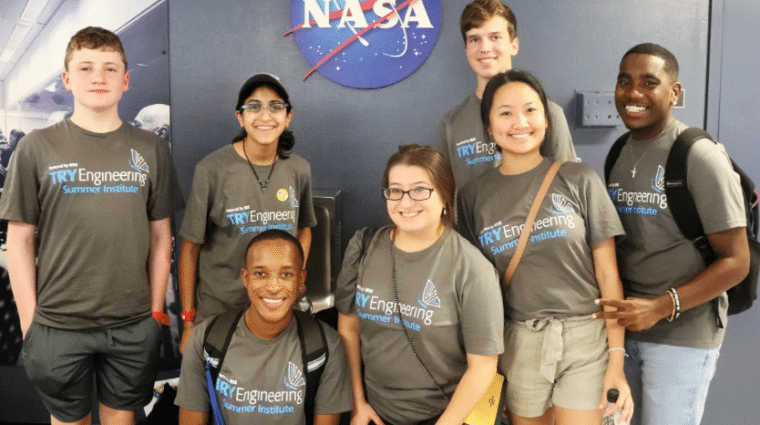 After a two-year hiatus due to COVID-19, attendance at the 2022 IEEE TryEngineering Summer Institute grew more than 100 percent compared to 2020, with 314 students attending.
The experience offers teens an opportunity to explore a variety of engineering disciplines through hands-on design challenges, field trips, industry speakers and more. A valuable part of the experience, the residential component, allows students to see what it's like to live on a college campus while building a sense of independence. TryEngineering 2022 included the campuses of Rice University, the University of Pennsylvania, the University of San Diego and Vaughn College. Behind-the-scenes tours included Boeing, Leonardo Helicopters, LaGuardia Airport, Space Center Houston and Qualcomm. Highlights from the tours included meeting two longtime NASA engineers and touring the Apollo Mission Control facility. In addition, students learned about 5G technology, Wi-Fi and artificial intelligence from engineers developing new applications. Meeting practicing engineers and learning firsthand about their jobs allowed students a peek at what their future could hold in a STEM career.
Donations from IEEE volunteers, members and societies to the IEEE Educational Activities Scholarship Fund through the IEEE Foundation made the program a success. Their generosity allowed 30 need-based students to attend tuition-free. "I can't describe how grateful I am for the scholarship," says a recipient who attended the program at Rice. "I loved everything about the camp, from the classes to the activities to the great people I met. Thanks to the camp, I've been able to come to the conclusion that I want to be an engineer."
Registration for 2023 is open. To help provide scholarships, contact Eileen R. Heltzer, CFRE, at e.heltzer@ieee.org or +1-732- 799- 4431.