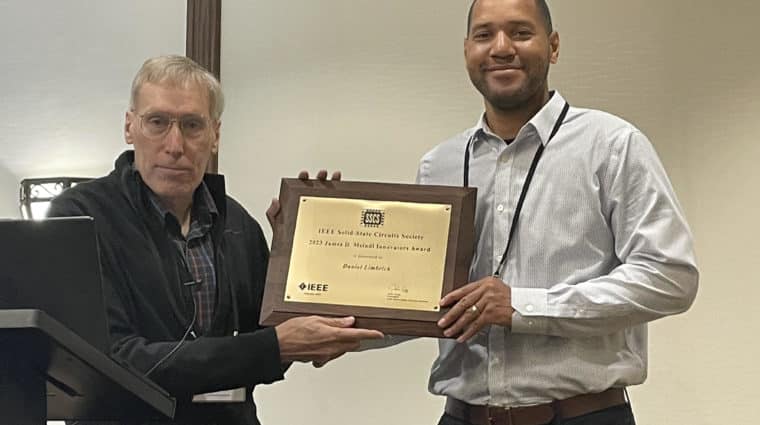 Dr. Daniel Limbrick is the 2023 winner of the . Dr. Limbrick is an Associate Professor in the Electrical and Computer Engineering Department at North Carolina Agricultural and Technical University (NC A&T), Greensboro, NC.
The Meindl award was established in 2021 and supports innovation in the field of solid-state circuits by funding projects that build excitement around the field among future generations and encouraging their participation. Limbrick's winning project seeks to expose students to the advanced concepts and algorithms needed to design a complex integrated circuit through development of an open-source puzzle game.
As a postdoctoral fellow at the Georgia Institute of Technology, Limbrick researched methods to improve routing congestion in monolithic 3D integrated circuits with Dr. Sung Kyu Lim. As a doctoral student, Limbrick was a member of the Radiation Effects and Reliability (RER) Group and the Security And Fault Tolerance (SAF-T) Research Group, where his research was conducted under the advisement of Dr. William H. Robinson. He received a BS degree in Electrical Engineering at Texas A&M and his MS degree and Ph.D. degree at Vanderbilt University. Limbrick leads the Automated Design for Emerging Processing Technologies (ADEPT) Laboratory at NC A&T where he researches ways to improve the reliability and scalability of integrated circuits through logic & physical synthesis. His research interests include electronic design automation, post-CMOS technologies, computer architecture, lab-on-a-chip, and the reliability of microelectronics.
In 2021, the IEEE Solid-State Circuits Society (SSCS) established the IEEE SSCS James D. Meindl Memorial Educational Fund of the IEEE Foundation, in honor of Professor James D. Meindl. A giant in the world of semiconductors and among the founding fathers of Silicon Valley, Meindl passed away on 7 June 2020. He was an active member of the IEEE Solid-State Circuits Council, the predecessor of the SSCS. He was a Past President of the Society, served as the founding editor of the IEEE Journal of Solid-State Circuits, and chaired the 1966 and 1969 International Solid-State Circuits Conference. For his contributions to microelectronics, the IEEE Life Fellow received the 2006 IEEE Medal of Honor.
In total US$1.1 Million has been donated to support this important initiative through an endowment fund that is administered by the IEEE Foundation on behalf of IEEE SSCS. The majority of the donations, 49  out of 52 in total, were made by individual donors, most of whom were students and colleagues of  Meindl.
y and perpetuate the memory of Prof. James D. Meindl and his passion for mentoring students, his entrepreneurial spirit, and supporting projects that have real-world impact on industry and humanity.

Read about the 2022 IEEE Solid-State Circuits Society James D. Meindl Innovators Award winner.