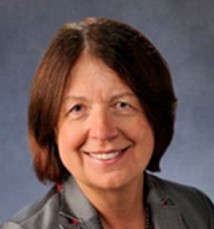 Bozenna Pasik-Duncan is a Professor of Mathematics, a Courtesy Professor of both Aerospace Engineering and Electrical Engineering and Computer Science, and Chancellors Club Teaching Professor at the University of Kansas. She received her M.Sc. degree in mathematics from Warsaw University and her Ph.D. and Habilitation doctorate from Warsaw School of Economics in Poland.
Bozenna is also an actively involved and prolifically engaged IEEE member, belonging to no less than 10 IEEE technical societies and councils. She was Vice President of IEEE Control Systems Society (CSS) and the representative of CSS in the Society on Social Implication of Technology (SSIT). Bozenna chaired IEEE Women in Engineering (WIE) 2017-18 and co-founded the CSS Women in Control (WIC). In addition to all her volunteer work, she is a loyal IEEE Foundation donor through her yearly IEEE membership renewal.
"I enthusiastically support the IEEE Foundation. I believe in, promote, and advocate for extraordinary women and their remarkable contributions to science and engineering," shares Bozenna. "As a researcher and educator, I am interested in outreach programs that appeal to female high school students involving STEM education."
Bozenna's devotion for inspiring high school girls grew from her childhood upbringing in post-World War II Poland. She greatly admired her mother and her K-12 teachers. "They were my heroes, their stories of survival and helping others through an underground teaching network were fascinating and most inspirational," shares Bozenna. "Everyone deserves education" became her motto and drove her passion for a life-long commitment to inspiring others.
"I consider myself very lucky and honored to have such remarkable women around me. I would not have been who I am without those influential role models in my life and professional career," explains Bozenna.
Bozenna is paying forward this inspiration through her volunteer work, membership renewal gifts, and sharing her own story. She is an IEEE Life Fellow and an award recipient of several awards, which include; CSS Distinguished Member, IEEE Third Millennium Medal, IFAC Outstanding Service, Outstanding Service to Kansans, AWM L. Hay in Mathematics Education, IEEE EAB Meritorious Achievement in Continuing Education, and KU Women's Hall of Fame.