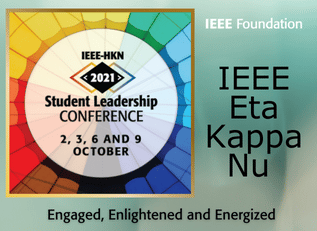 IEEE-Eta Kappa Nu (HKN), the honor society of IEEE and a donor supported program, wrapped up its Student Leadership Conference (SLC) on 9 October.

Held over four days, the SLC was an interactive, online event that attracted more than 270 HKN students representing nearly 80 chapters from 20 countries. Attendees engaged in more than 50 professional development and chapter strengthening sessions and workshops.

The SLC kicked off with an opening session from Apple co-founder and HKN Eminent Member Steve Wozniak and closed with an Awards and Recognition Ceremony.

The event is the premiere conference for IEEE-HKN's student members, who comprise the top EE, ECE, CE and allied field students from around the globe. A direct corollary can be drawn from SLC attendance to Chapter success: Members who attend the event return to their chapters engaged, enlightened and energized to enhance programming, grow their membership and increase community outreach.
To date, IEEE-HKN has received contributions in the amount of $8,873 to offset the cost of producing the conference. Could you help us reach our goal of $18,400? Your gift will go a long way to educating and nurturing the next generation of technical professionals.