16 February 2023
|
50, 50th, Board, Eta Kappa Nu, History, History Center, HKN, ISV, Leadership, Life Members, SIGHT, Smart Village, TESI, TryEngineering, WIE, Women in Engineering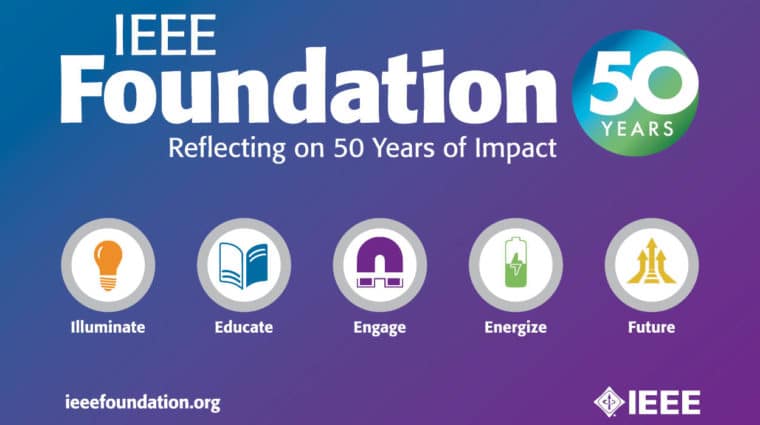 Philanthropic Partner of IEEE Marks Half a Century of Global Social Impact Through
Technology and Education
Piscataway, NJ, February 16, 2023 – The IEEE Foundation announces the celebration of its 50th anniversary, marking five decades of translating member and donor values into social impact by transforming lives through the power of technology and education. Established on February 16, 1973 as the philanthropic partner of IEEE, the world's largest technical professional organization advancing technology for humanity, the IEEE Foundation's 50-year milestone will be commemorated throughout 2023. It will include a celebration and reflection on five decades of accomplishments, bringing together philanthropists, IEEE members and its partners to build a brighter future. IEEE Foundation's anniversary will showcase the profound impact the organization has around the world and its plans for the future that look beyond our lifetime to shape the destiny of future generations.
"As the IEEE Foundation marks its 50-year anniversary, the global need for sustainable development, internet access, STEM education and inspiring a new, diverse generation of technologists to take up such worthy endeavors has never been greater," said Ralph Ford, IEEE Foundation President. "Generous donors and members are the lifeblood fueling the IEEE Foundation's world-changing initiatives, which have positively impacted thousands of communities and the people within them. I am proud of all we have accomplished and look forward to helping build an even greater future for those in need."
"Technology has and will continue to benefit humanity, and this is the mission IEEE embraces," said 2023 IEEE President Saifur Rahman. "Making our world more equitable, sustainable and resilient is critical for every community, and the five decades of generous support from donors to the IEEE Foundation that support the IEEE programs that focus on these issues have been invaluable to under-resourced communities globally."
"Congratulations to the IEEE Foundation on this significant milestone and taking on the biggest challenges of our generation – fostering technology for the benefit of humanity for 50 years," said Leah Jamieson, 2007 IEEE President and IEEE Foundation President Emerita.
Highlights of programs funded by generous donors to the IEEE Foundation during the past 50 years include:
IEEE Smart Village (ISV) – Conceived in 2009 and first funded in 2010, ISV carefully vets business development projects that integrate 1) renewable energy, 2) educational opportunities and 3) entrepreneurship development to empower energy-impoverished communities around the world. With close to 200 projects established across 18 sub-Saharan Africa countries, India, Latin America and Southeast Asia countries, ISV benefits more than 1.4 million people, and by uniting engineers, educators, volunteers and donors, guides local entrepreneurs to develop and sustain clean, renewable energy systems, implement education programs and operate new businesses.
IEEE History Center – Established in 1979 to prepare IEEE to celebrate its 1984 centennial, today the Center preserves and promotes the history of technology, the profession and IEEE, including nearly 1,000 technology icons' memories in IEEE Oral Histories, more than 200 IEEE Milestones honoring significant technical achievements worldwide, and more than 5,000 articles on the Engineering and Technology History Wiki (ethw.org).
IEEE Women in Engineering (WIE) – Established in 1997, WIE is a global network dedicated to promoting women engineers and scientists, and inspiring girls to pursue careers in science, technology, engineering and math (STEM), with 30,000 members in more than 100 countries.
TryEngineering – Focused on empowering the next generation of technology innovators and launched in 2006, the IEEE Foundation has been a frequent investor in TryEngineering, IEEE's STEM portal providing educators and students with free resources, lesson plans and STEM-centered activities. Programs reach North America, Central and South America, Europe, Africa, India and Southeast Asia.
Other IEEE Foundation-supported programs include IEEE-Eta Kappa Nu (IEEE-HKN), the honor society of IEEE with more than 250 student and alumni chapters in 29 countries; IEEE SIGHT, with 18,000 members across more than 130 countries tackling the most urgent problems of local communities; the IEEE Life Members Fund, supporting lifetime and student members; and IEEE scholarships and fellowships.
To participate in the IEEE Foundation 50th Anniversary Virtual Reception on March 1, 2023, register at https://webinars.on24.com/ieeedigital/foundation50.
About the IEEE Foundation
As the philanthropic partner of IEEE, the IEEE Foundation inspires an engaged community and leverages the generosity of donors to enable IEEE programs that enhance technology access, literacy, and education and supports the IEEE professional community.
The IEEE Foundation, a tax-exempt 501(c)(3) organization in the United States, connects IEEE member-led initiatives with financing, expertise and philanthropic guidance. Our goal is to put effort where philanthropy and technology intersect. Together, we deliver opportunity, innovation and impact, and advance the IEEE mission across the globe. Learn more.
About IEEE
IEEE is the world's largest technical professional organization dedicated to advancing technology for the benefit of humanity. Through its highly cited publications, conferences, technology standards, professional and educational activities, IEEE is the trusted voice in a wide variety of areas ranging from electrical engineering, aerospace systems, telecommunications and computer science to biomedical engineering, artificial intelligence, and consumer electronics. IEEE has expanded its open access program and launched many new fully open access titles in fields such as computing, telecommunications, biomedical engineering, nanotechnology and more. Learn more.
Media contacts:
Karen Kaufman
+1 732 781 3436
k.m.kaufman@ieee.org
Francine Tardo
+1 732 465 5865
f.tardo@ieee.org