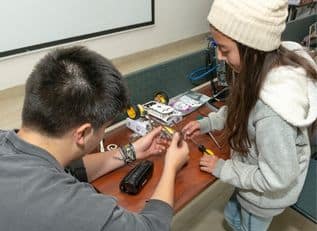 IEEE Foundation partnered with IEEE Educational Activities and TryEngineering to add a new, impactful fund to the Foundation's portfolio of funds. Now, IEEE volunteer groups can apply for grants which encourage local IEEE groups to offer STEM events in their community.

TryEngineering empowers the next generation of technology innovators. Through its robust STEM web portal, educators and students have access to free resources, lesson plans and activities that engage and inspire pre-university students. In addition to creating and posting the information, TryEngineering now supports IEEE's technology experts who volunteer to bring these resources to their communities around the world.

TryEngineering helps community-based IEEE volunteers to leverage the resources of the TryEngineering portal to meet the needs of their community by delivering innovative, compelling STEM outreach activities in their community. To support IEEE volunteer groups who lack the funds needed to deploy these critically important STEM centered activities, IEEE Educational Activities launched the IEEE STEM Outreach Grant program in 2021. Donor support of the new IEEE TryEngineering STEM Outreach Grant Fund of the IEEE Foundation will help scale the number of grants awarded each year to make a larger and more robust impact around the globe.

Read about the 2022 STEM Portal Grant Recipients. The 2023 grant cycle will begin in January. By donating to TryEngineering you will help provide fresh content to the TryEngineering site and expand its reach and impact through IEEE STEM grants. Thank you for supporting TryEngineering.