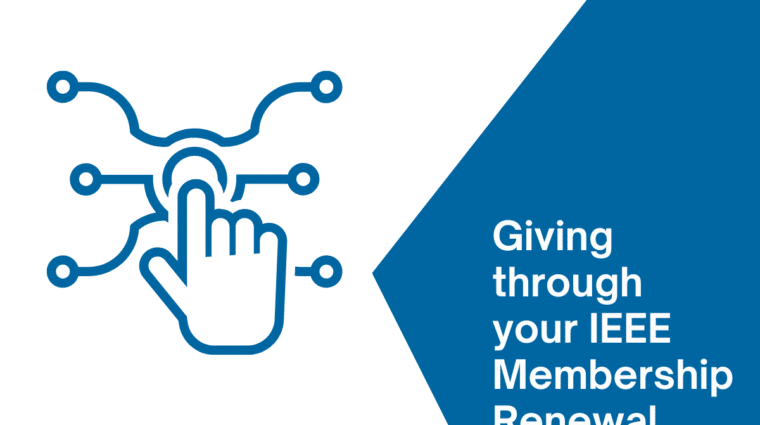 Making a gift during your IEEE Membership Renewal is one of the most convenient ways to support the IEEE Foundation while ensuring IEEE remains your professional home. With your support, you can transform the lives of individuals and communities around the world. Your contribution is essential in growing IEEE and the philanthropic programs of the IEEE Foundation.
"I find IEEE very valuable by keeping dedicated electrical engineers connected while supporting their ongoing learning. I am besieged with requests to support this or that. All are worthwhile, but I rank IEEE near the top!" – Paul Dorvel, IEEE Life Senior Member
---
Online Renewal
Renewing your membership online is a quick, convenient, and secure way to renew your membership. You are able to add a donation during the payment  section of your shopping cart. See the video walkthrough here.
---
Physical Renewal
*Sample IEEE Life Member Profile form.
On the paper renewal form, you can add a donation on page 3 (immediately above the communication preferences and payment method). Please note information shown here may appear slightly different depending on your member grade.
---
Funds Featured in the IEEE Membership Renewal
IEEE Foundation Fund ensures the IEEE Foundation's capacity to transform lives and the ability to spark the imagination and entrepreneurial spirit of IEEE organizational units.
IEEE History Center Fund ensures the IEEE History Center can collect and disseminate information and resources that exemplify the impact and influence of technology and its past and present relationship to society.
IEEE Life Member Fund supports a collection of IEEE activities of interest to Life Members and future Life Members that make a significant, positive global impact on the profession and improve the awareness of engineering.
IEEE-Eta Kappa Nu Fund supports recognizing students who have achieved excellence in the IEEE technical fields of interest and provides leadership training conferences, networking opportunities, and lifelong skills.
IEEE-USA Fund supports programs that enhance pre-university science, technology, engineering, and math (STEM) education and promotes awareness and recognition of engineers and technologists' vital role in today's society.
IEEE Region 8 Fund supports member service programs in developing countries within Europe, the Middle East, and Africa, providing funds to help students from low-income countries participate in scientific and technical events.
IEEE Region 9 Fund sponsors activities for young IEEE members and the development of new technical products in economically disadvantaged countries in Latin America.
IEEE Canadian Foundation provides scholarships, grants, and prizes to IEEE student members, IEEE student branches, and others in Canada.
Looking for other ways you can make an impact? Learn about our accepting giving methods on our Ways to Give webpage.