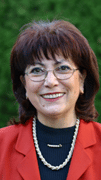 The Sahazizian Family (on behalf of Anne-Marie Sahazizian)
MEMBER GRADE: Life Senior Member
As an active member of IEEE's Toronto Section, Standards Association, Standards Board, and Charles Proteus Steinmetz Award Committee as well as the recipient of the IEEE Standards Medallion "for major contributions to the development of standards" in 2012, Anne-Marie Sahazizian, P.Eng., cherished her 39-year affiliation with IEEE. So it came as no surprise when, following her passage in 2019, her family chose to help honor her memory by creating a new IEEE scholarship in her name to help light the way for up-and-coming engineers in the power and energy industry.
Thanks to the Sahazizian family's generous donation to IEEE's Power & Energy Society (PES) Scholarship Plus Initiative, creation of the new Anne-Marie Sahazizian Scholarship Fund will celebrate Anne-Marie's outstanding contributions to the field and her passion for supporting the next generation by helping to fund six Sahazizian Scholars annually, with preference given to qualified female applicants. Recipients can receive up to three years of funding to help develop their careers and enhance their ability to lead in Anne-Marie's name.
"My mother's nearly 40-year association with IEEE had afforded her the opportunity to travel and meet peers, many of whom became lifelong friends, and the idea of honoring her legacy through an organization to which she was so devoted seemed very natural," shared Anne-Marie's son Anton Sahazizian, who worked with his sister Alice, their spouses, the IEEE Foundation, and the IEEE Power & Energy Society to launch the scholarships beginning in 2020. "Our family's hope for the new Anne-Marie Sahazizian Scholarships is that they carry on my mother's legacy of helping young and particularly female electrical power engineers to develop their professional careers. We believe that's very much what Mom would have wanted."