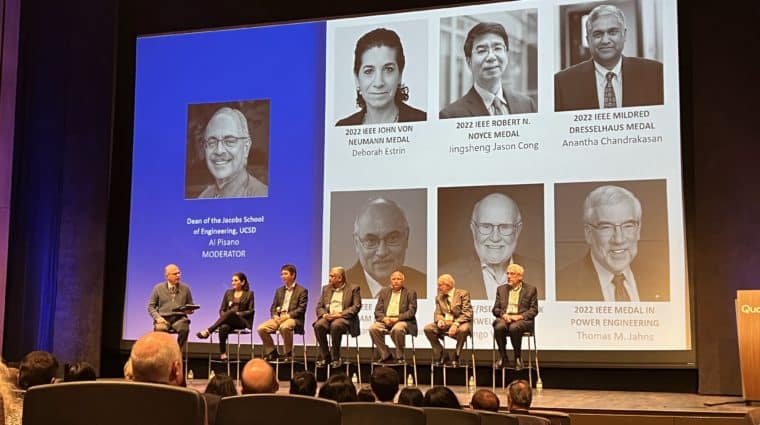 On 5 May 2022 at Qualcomm Headquarters in San Diego, CA, US, Qualcomm generously hosted an "Evening of Innovation," a panel discussion with 2022 IEEE Medal Recipients. IEEE Awards Board Chair Karen Panetta welcomed everyone along with 2022 IEEE President K. J. Ray Liu and IEEE Region 6 Director Elect Kathy Herring Hayashi. We also heard from Ed Tiedemann, Qualcomm Fellow and Senior Vice President of Engineering, Qualcomm Technologies, Inc., and Jeff Lorbeck, Senior Vice President and General Manager, Connected Smart Systems (CSS), Qualcomm Technologies, Inc.
The panelists – Deborah Estrin (IEEE John von Neumann Medal), Jingsheng Jason Cong (IEEE Robert N. Noyce Medal), Anantha Chandrakasan (IEEE Mildred Dresselhaus Medal), Panganamala R. Kumar (IEEE Alexander Graham Bell Medal), Ingo Wolff (IEEE/RSE James Clerk Maxwell Medal), and Thomas M. Jahns (IEEE Medal in Power Engineering). – were led by moderator UC San Diego Dean Albert "Al" P. Pisano, Ph.D. Panelists shared stories of their career paths, innovations and insights on emerging technologies. At the end of the panel Dr. Pisano encouraged the audience, which included guests from the IEEE San Diego Section and the IEEE University Partnership Program, to speak with the panelists, after all, "they're just people".
Special thanks to Qualcomm for underwriting this special evening.