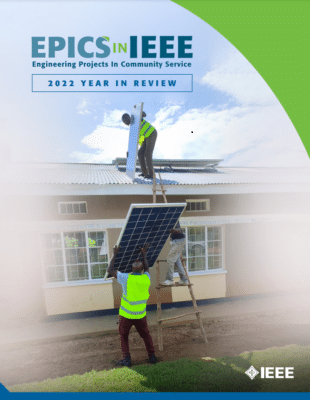 The EPICS in IEEE program had a stellar year in 2022. As educational institutions were better able to navigate through another year of the global pandemic—students returned to team-based learning and engaging with their local communities to enhance their engineering education while positively impacting the world around them. The EPICS in IEEE committee is thrilled to have approved and supported 27 projects this year.
EPICS in IEEE has compiled a report of all the activities that made 2022 a stand-out year. Specifically, the Annual Report features three project stories from around the globe, updates on metrics and impact, as well as improvements to its operating procedures.
The highlight of 2022 was hosting the EPICS in IEEE Environmental Competition, sponsored by the United Engineering Foundation. This competition supported ten student teams from across the United States to work on projects with environmental impact. Many of these stories are shared as blog posts on the EPICS in IEEE website and social media. The committee also launched a call for proposals for the EPICS In IEEE Access and Abilities competition, which is funded by the Jon C. Taenzer Memorial Fund through the IEEE Foundation. These projects start in 2023, and the committee is excited to see the impact the student team members can have globally on making the world more equitable and accessible.
The committee is proud of the work it accomplished in 2022 and has hit the ground running in 2023. "With a goal to empower engineers and technical professionals to impact communities, our work is never done. I hope you will join us as we celebrate our accomplishments from 2022, and look forward to 2023." Stephanie Gillespie, Ph.D., EPICS in IEEE Committee Chair, 2023.
"IEEE recognizes the importance of service learning as part of the education of our future engineering workforce. In 2022, EPICS (Engineering Projects in Community Service) received a record number of applications for grants to fund projects that partner community organizations with university students. With the support of our generous donors, partners, and volunteers, Educational Activities was proud to award funds to over 900 community-minded students across the globe." Jamie Moesch, Managing Director, Educational Activities.
Thank you for helping EPICS In IEEE work towards the IEEE mission of fostering technological innovation and excellence for the benefit of humanity! View the EPICS in IEEE annual report here!