1 March 2023
|
Board, Eta Kappa Nu, Heritage Circle, History Center, HKN, MOVE, Oral History, PES S+, WIE, Women, Women in Engineering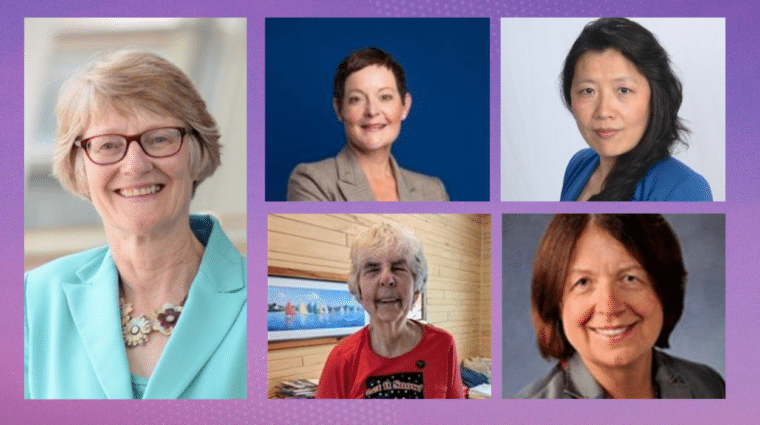 This month, the IEEE Foundation honors women and their contributions to IEEE and their professions as we celebrate Women's History Month. Everyday IEEE volunteers make incredible contributions through their work and great impacts through their donations; some do both. We sought to highlight five of the women who contribute their time, talent and treasure – one in each of the IEEE Foundation program pillars: Illuminate, Educate, Engage, Energize, and Future. These women have each, in their own way, made significant contributions to their fields and to IEEE – and have amazing stories to share.
Illuminate: Kathy Land
Susan "Kathy" Land is a Program Manager for the Missile Defense Agency. Kathy is responsible for advancing the Command, Control, Battle Management & Communications (C2BMC) Program mission objectives. She has more than 30 years of industry experience in the application of software engineering methodologies, the management of information systems, and leadership of software development teams. She is 2021 IEEE President, an IEEE Fellow, IEEE-HKN Member, IEEE Computer Society Richard E. Merwin Award recipient and is a recipient of the IEEE Standards Association Standards Medallion.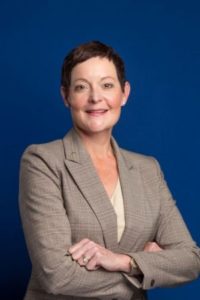 Susan donates to IEEE MOVE via the IEEE Foundation. As she says, "I choose to donate to programs, like IEEE MOVE, that will have an impact in my geographic area. MOVE provides support to individuals when they are hit by natural disaster, providing disaster recovery resources. MOVE also supports STEM education, which is critically important." She has given for 5 consecutive years.
When asked about what Women's History Month means to her, Kathy said, "This is a very important time of reflection, it is so important for us to identify those who have been groundbreakers in the areas of women's rights and to understand and recognize their contributions. Knowledge of our combined history is inspiring and provides examples to others, in nations who do not participate in this annual celebration, of the art of the possible."
Kathy acknowledged that her grandmother was her biggest influence. She expounded, "She was a groundbreaker, working in WWII factories, ensuring her three girls received college educations, and pretty much inspiring me with her no nonsense, direct and engaging way of working with others. She always made me feel valued and that I could do anything –if I worked hard enough."
Educate: Jessica Bian
Jessica Bian is Senior Member of IEEE and the President of the IEEE Power & Energy Society (PES). She is a visionary leader and architect who has spearheaded the electric industry's reliability metrics and grid-risk assessment. She is currently with Grid-X Partners. Before that, she was with the U.S. Federal Energy Regulatory Commission. Previously, she was the director of performance analysis at the North American Electric Reliability Corporation (NERC) in Atlanta, GA, USA. Under her leadership, a total of 18 industry-wide reliability indicators were established for the first time to determine grid reliability, adequacy and associated risks. She is widely recognized as a pioneer and trusted world leader in the field. Before joining NERC, Jessica was with PJM, ERCOT and Westinghouse Electric. She has had more than 70 articles published, and she received the 2014 PES Wanda Reder Pioneer in Power Award for her technical achievements.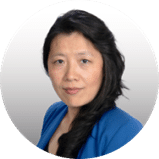 Jessica donates to the IEEE PES Scholarship Plus Initiative. Jessica says of her support of PES Scholarship Plus, "This undergraduate engineering scholarship program is to attract highly qualified engineering students to the power and energy field. These students are the very individuals who will one day develop clean energy, and solutions to power a sustainable future."
Jessica looks forward to the month of March and learning about trailblazing women. She points to Edith Clarke as being particularly important to her. Jessica said, "In 1922, Edith Clarke became the first woman to be professionally employed as an electrical engineer in the United States, and the first female professor of electrical engineering in the country. She was the first woman to deliver a paper and was named as a Fellow of the American Institute of Electrical Engineers (which became the Institute of Electrical and Electronic Engineers, IEEE, in 1963). …For the last 85 years, every power engineering student has been learning the Clarke Transformation Theory…I learned the Clarke equations in 1984 when I was a junior college student. I used them right away at my first job – designing generator excitors and applying the flexible AC transmission system (FACTS) technologies to the power grid with several technical papers published in IEEE journals." She also points out, "Research shows that when it comes to keeping females in the engineering field, the importance of belonging, mentorship and seeing someone like yourself in positions of leadership is key."
Engage: Martha Sloan
Martha Sloan was IEEE president in 1993. She was the first woman to lead the Institute. She started her career working at Lockheed Missiles and Space Company. She is currently an electrical and computer engineering professor at Michigan Technological University. She is the author of three textbooks and more than 60 papers. She is a Fellow of the ACM and SWE, an IEEE Life Fellow and has received numerous awards, including the SWE Distinguished Engineering Educator Award, an IEEE Centennial Medal, the Richard E. Merwin Award, and the ASEE Outstanding Young Electrical Engineering Educator Award.
Giving for the last eight consecutive years, Martha has donated to the History Center via the IEEE Foundation because, as Martha says, "having served on the History Committee, I realized what a remarkable and rich background IEEE has from its inception as two separate organizations."
When we asked Martha about the women who have had an impact on her life, she offered this list: "My great aunt Lucia Goodwin, a high school mathematics teacher, known for teaching well and expecting high performance; My grandmother, Celia Goodwin, a very successful businesswoman. She was the state director of the Red Cross for the state of Montana in 1920. Later on, returning to Illinois, she was assistant secretary-treasurer of the Copley Press, a newspaper chain; Irene Carswell Peden, who was a graduate student in electrical engineering at Stanford when I was an undergraduate and who became the first woman on the IEEE executive committee." She read about various early women doctors when she was a child and added, "All made me realize that women could achieve in traditionally male fields."
Martha reminds us that one important aspect of Women's History month is that it "continues to inspire young women with less conventional goals." To learn more about Martha, read her recorded Oral History including more reflections on Women in Engineering and her interactions with Bill Clinton and Boris Yeltsin.
Energize: Sarah Rajala
Sarah Rajala has consistently broken new ground for women in engineering and is passionate about diversity of thought and culture and currently sits on the IEEE Foundation Board of Directors as the Vice President, Development. She was elected to the US National Academy of Engineering in 2022. She served as the 12th dean of the College of Engineering at Iowa State University from 2013 – 2019. Her previous leadership positions were at Mississippi State University as dean of engineering from 2008-13, and chair of the electrical and computer engineering department prior to being named dean. She also served at North Carolina State University as associate dean for research and graduate programs and associate dean for academic affairs in the college of engineering. She is a past president of the American Society for Engineering Education and past chair of the Global Engineering Deans Council. In 2016 she was awarded national engineer of the year award by the American Association of Engineering Societies; and received the 2015 national Harriett B. Rigas Award from IEEE. She is a fellow of the AAAS, ABET, ASEE and IEEE.
Sarah is an IEEE Heritage Circle member, recognized at the Nikola Tesla Level. For the last four years, Sarah has donated to IEEE-Eta Kappa Nu and the IEEE Foundation Fund. "Eta Kappa Nu plays an important role in recognizing students in electrical and computer engineering and broad disciplines supported by IEEE," she said. "I think that's important because it really helps reinforce students' capabilities and gives them an opportunity to be connected with local chapters and engage in service-oriented activities."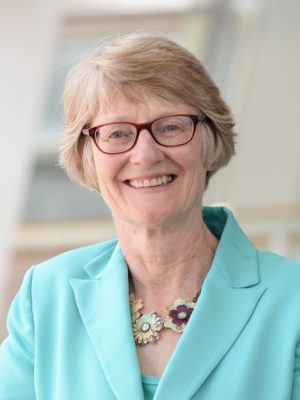 Sarah celebrates two women who positively influenced her career. "Leah Jamieson and Karan Watson are IEEE Fellows and leaders in engineering education. They have been role models both within IEEE and as academic leaders. Each one has defined a path through life that has had a meaningful impact on their communities, universities and professional organizations." Sarah also added that having daughters herself had a compelling influence on her and her work. When asked about which women inspire her, she said, "My daughters –Kristen Aanstoos and Stephanie Aanstoos Sullivan. As a female studying engineering in the 1970s, there were very few role models who were women. There were also very few family friendly policies at universities. I was the first female engineering faculty member to have a baby at my university. My daughters motivated me to not only make a difference for them, but for the women faculty who followed in my footsteps. As they grew up and started their own careers, they continued to inspire me as they too have begun having an impact in their own lives."
Looking to both the past and the future, Sarah salutes Women's History Month, "as an opportunity to reflect on all the women who have had an influence on our lives and to learn more about all the women who have come before us. It also provides us an opportunity to celebrate the young women who will lead us into the future."
Future: Bozenna Pasik-Duncan
Bozenna Pasik-Duncan is a Professor of Mathematics, a Courtesy Professor of both EECS and AE, and an ITTC Investigator at the University of Kansas. Her research interests are primarily in stochastic systems and stochastic adaptive control, system identification and estimation, and control education as a field that spans science, technology, engineering and mathematics (STEM) education.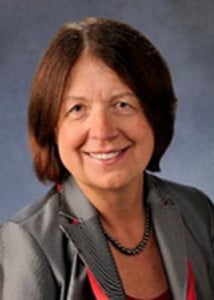 Bozenna is actively involved with IEEE Control Systems Society (CSS) and serves as Deputy Chair of the IEEE CSS Technical Committee on Control Education. Furthemore, Bozenna serves on the Board of Governors for the IEEE Technology and Society (SSIT) and is a voting member of the IEEE Women In Engineering (WIE) Committee. She was the 2017-2018 Chair of IEEE WIE as well as served on many other committees. Bozenna is an IEEE Fellow, Distinguished Member of the CSS, and a recipient of the IEEE Third Millennium Medal.
For the last seven years, she has given through the IEEE Foundation. This past Giving Tuesday, she has supported IEEE Women In Engineering (WIE). About her gifts, Bozenna says, "My donations, giving back and helping others come from my heart…I donate to WIE because I believe that my donation can make a difference for the better in women's lives. By donating I send a strong message to encourage and empower women to be engaged in helping each other in many different ways. One of my mottos is: only by working together can we make a difference."
Reflecting on the women in her life, Bozenna looks to her mother and K-12 history teachers. "They were my heroes, their stories of survival and helping others that included teaching underground were fascinating and most inspirational," she said. "We didn't use the textbooks. We listened to their history. The power, beauty and excitement of learning from the WWII heroes had a strong impact on my personal and professional life. Teaching, helping and engaging others in learning became my life-long passion and commitment." When asked about her female role model, Bozenna answered, "For me and for all Polish girls, Marie Skłodowska–Curie was a role model of an amazing scientist. She was a Polish and naturalized-French physicist and chemist who conducted pioneering research in both scientific fields. She was the first woman to win a Nobel Prize, the first person and the only woman to win a Nobel Prize twice, and the only person to win a Nobel Prize in different scientific fields. There were many moments in my life when I thought of her while balancing between two cultures, Polish and American." She gives the women who have come before her credit for their influential role in her life. Clearly, her love of history, teaching and Polish women in math and science fascinates her. She is excited to celebrate Women's History Month with her students.
What women do you credit for helping to pave the way for your field? Share your stories for Women's History Month via social media tagging @IEEEFoundation. To stay up to date on Foundation milestones like upcoming 50th Anniversary activities, we invite you to follow us on LinkedIn, Twitter and Facebook. To learn more about the innovative programming that the IEEE Foundation supports, thanks to our donors, we invite you to explore our website.