Within the online toolkit, you will be introduced to the elements of the IEEE Foundation identity and successful applications of use. These brand identity guidelines represent an opportunity to tell the story of IEEE programs enabled through philanthropic giving to the IEEE Foundation – whether it be visually, verbally or in writing – and to do so in a way that is consistent & polished. 
To maximize the ability for the IEEE Foundation to reach all audiences, we must ensure that all materials maintain a consistent "look" and a consistent "theme." This allows every IEEE Foundation communication to reinforce the brand and make our message stronger.
For questions about IEEE Foundation brand assets, please contact
Karen Kaufman k.m.kaufman@ieee.org 732-981-3436
The following sections will guide you through our brand assets:
The IEEE Foundation mark (logo) must be included on all digital and print collateral materials. Please refer to the Foundation Visual Identity Guidelines. If you have questions about the IEEE Foundation mark or need further assistance with IEEE program marks, please contact donate@ieee.org.
50th Anniversary Mark with Bug
Configurations & Size Ratio
The size of the identity is matured across the width of the entire mark. To ensure the optimum definition of the identity in reproduction, the mark should not be reproduced smaller than the minimum size notated. Original artwork should always be used to reproduce the identity.
Minimum Size for Print
1.875in (47.625mm)
Minimum Size for Web
135 pixels
Spacing is critical to readability. The area indicated around the identity is known as the isolation area. To ensure the clarity of the identity, this area should be kept free of any type, imagery, or graphic elements. The isolation area is always determined by calculating the height of the character 'I' within IEEE Foundation mark being used.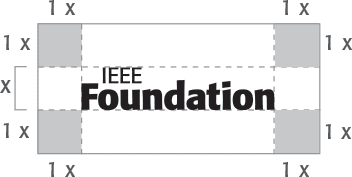 This Donor Support Seal is a tag that may be used to highlight IEEE programs made possible in whole or in part by giving to the IEEE Foundation. Use it in your Powerpoint presentation slides, on your Website, in publications and anywhere a donor supported program is depicted to show the breadth and depth of the impact that donors to the IEEE Foundation have across the Institute.
Below are multiple colors that can be adjusted in size to meet the needs of any publication.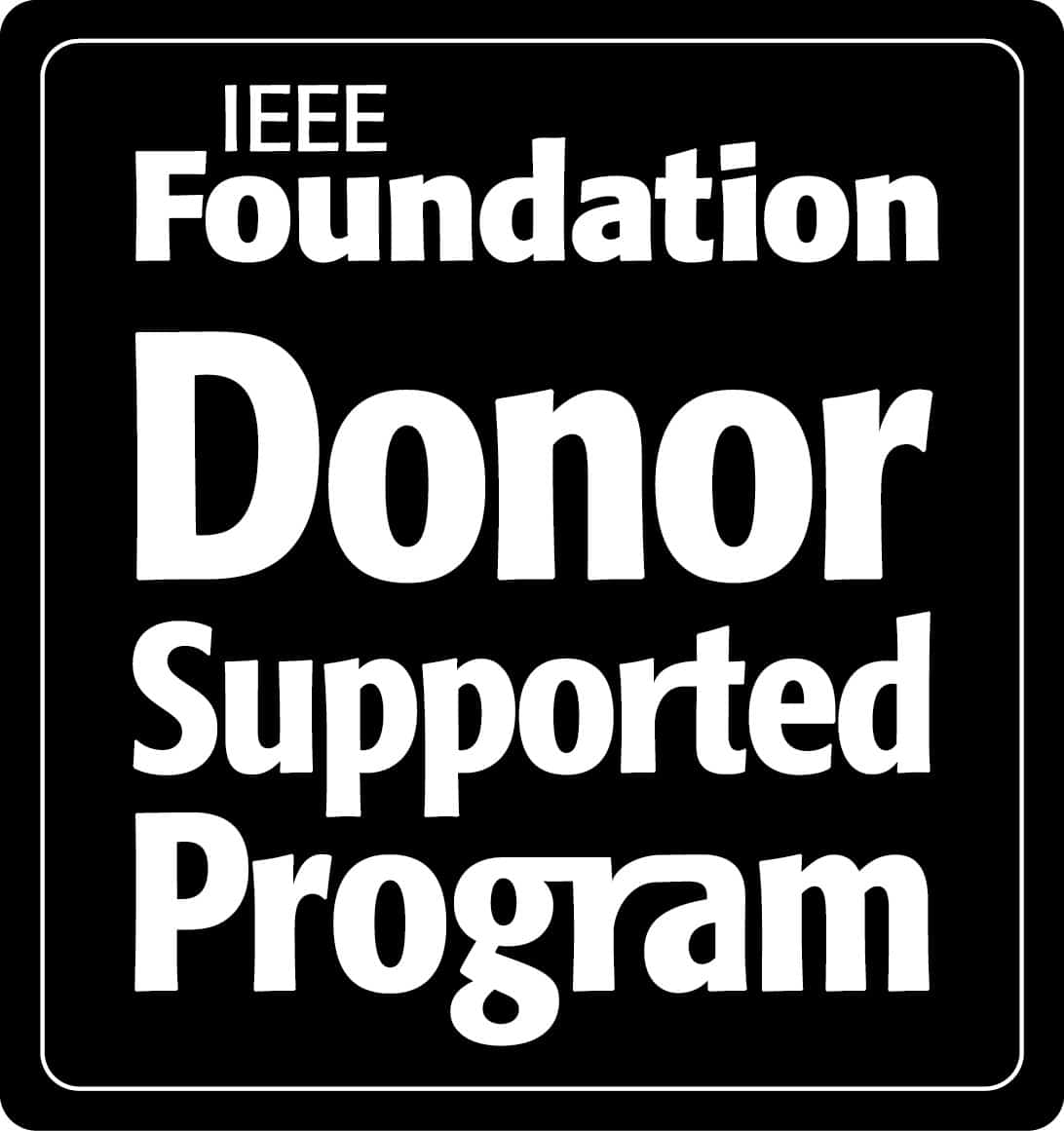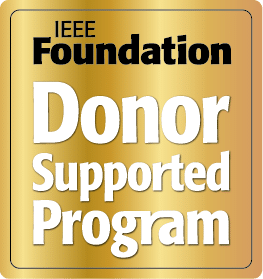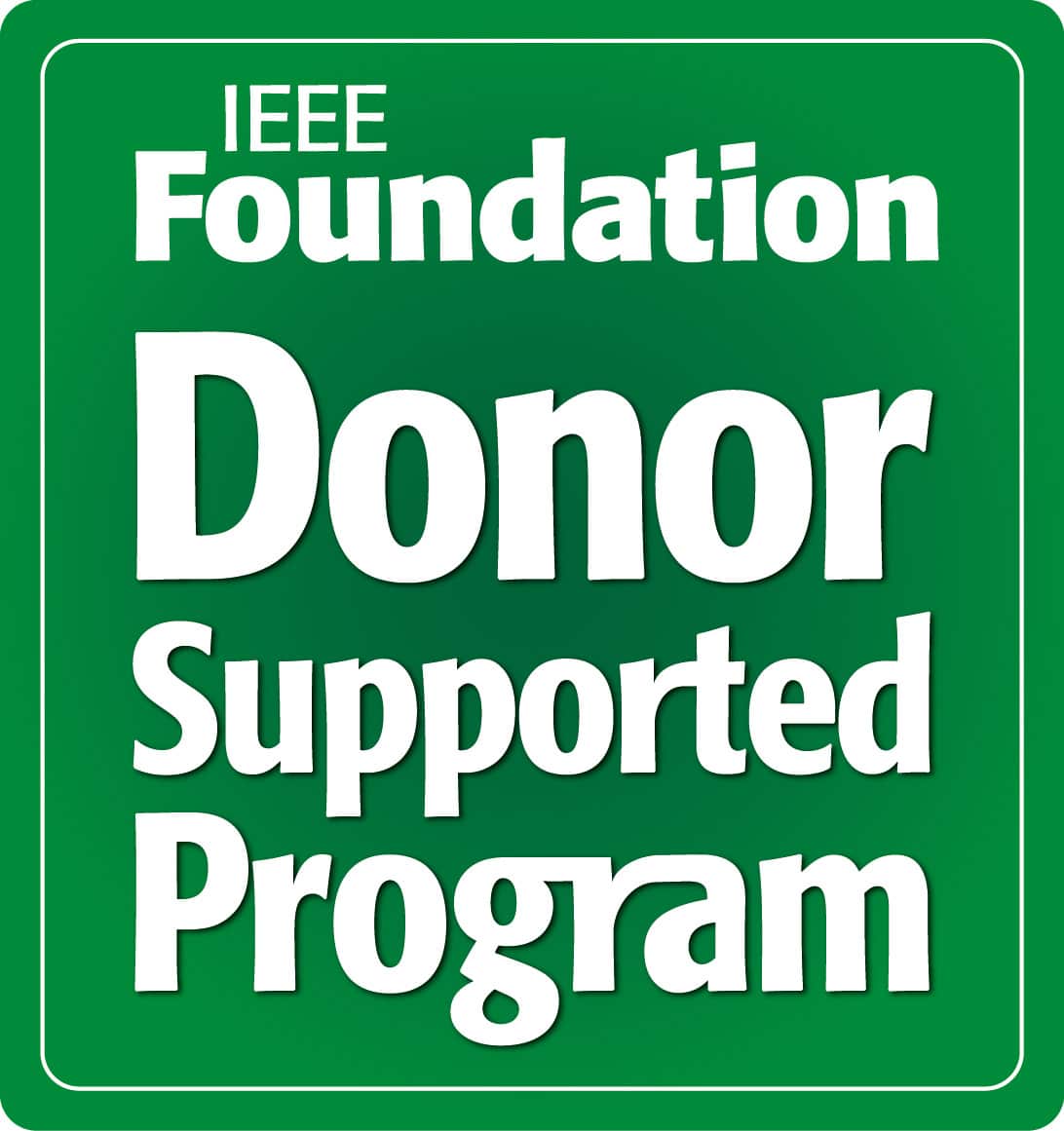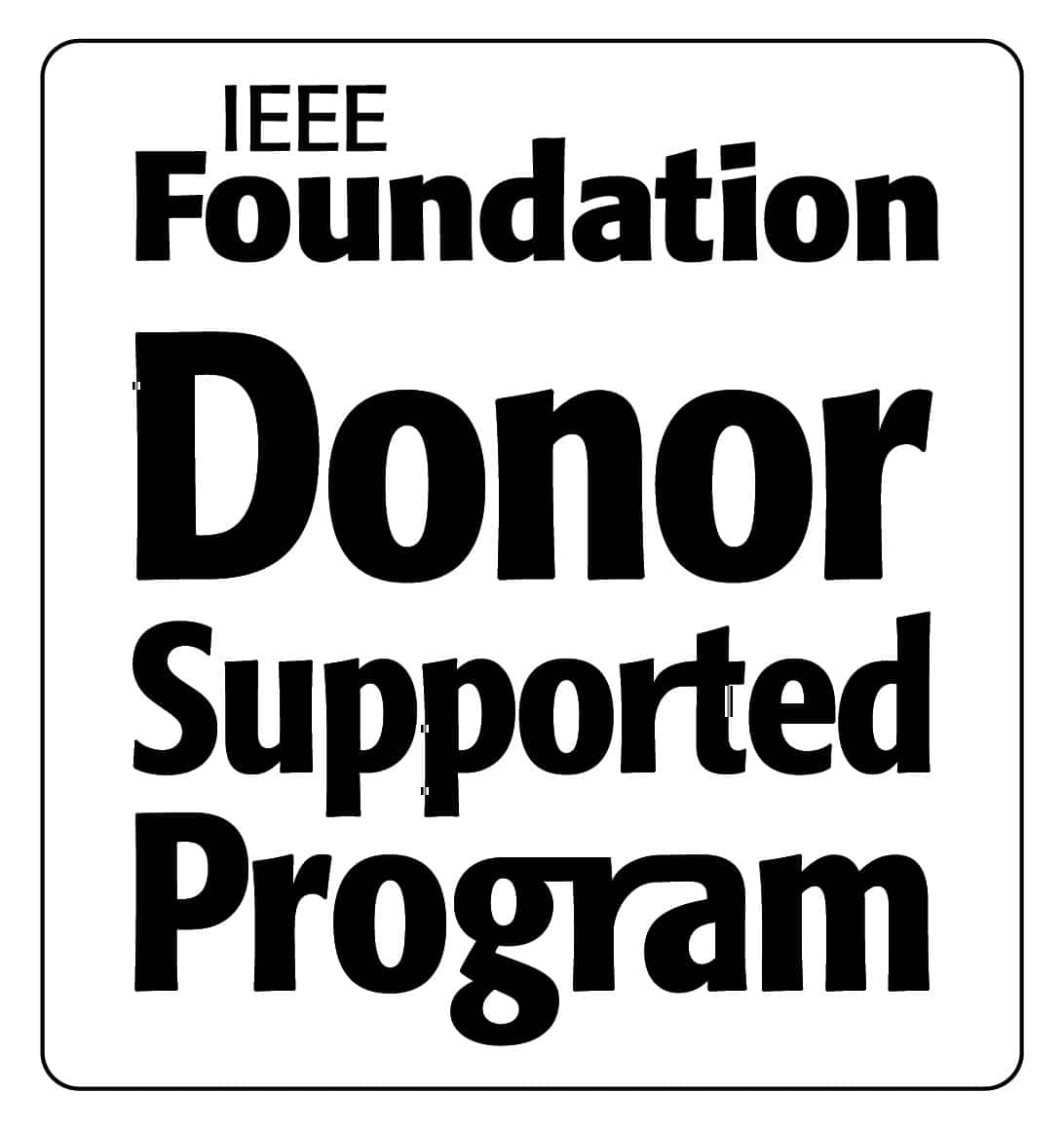 Typography can work together with other design elements to make communications more readable, consistent, and visually appealing. IEEE typefaces have been chosen with these purposes in mind, as well as for their adaptability to a wide range of materials.
Formata is the primary IEEE typeface, and should be used for all print applications relating to the IEEE Foundation.
Verdana is the primary IEEE typeface to be used on screen-based applications, such as PowerPoint documents and Web sites.
Print Typefaces
Formata (Primary)

Adobe Caslon Pro (Secondary)


Times New Roman (Secondary)

Both Verdana and Times New Roman are default system fonts and are readily available to most users. Due to licensing restrictions for font usage, we cannot share purchased fonts (Formata and Adobe Caslon Pro) among departments or with volunteers. Currently IEEE does not mandate the font be purchased from a particular vendor, so you may want to shop the best price for a bundled package, if possible, that includes the entire family with numerous weights (including condensed).
Virtual Meeting Backgrounds
Visit the IEEE Brand Experience site to view and download virtual meeting backgrounds:
Overview and Boilerplate Statement
Short Description
As the philanthropic partner of IEEE, the IEEE Foundation translates the values of our members and donors into social impact. We connect 250+ IEEE member-led initiatives with financing, expertise and philanthropic guidance. Our goal is to put effort where philanthropy and technology intersect. Together, we deliver opportunity, innovation and impact, and advance the IEEE mission across the globe.
Boilerplate Statement for News Items, Credits, etc. 
As the philanthropic partner of IEEE, the IEEE Foundation inspires an engaged community and leverages the generosity of donors to enable IEEE programs that enhance technology access, literacy, and education and supports the IEEE professional community. 
The IEEE Foundation, a tax-exempt 501(c)(3) organization in the United States, fulfills its purpose by soliciting and managing donations, recognizing the generosity of our donors, supporting high impact IEEE programs, and awarding grants to IEEE grassroots projects of strategic importance. The IEEE Foundation serves as a steward of donations that improve the human condition, empower the next generation of engineers and scientists, educate and raise awareness, energize and recognize innovation, and preserve the history of technology. With donor support, the IEEE Foundation strives to be a leader in transforming lives through the power of technology and education.
(Include if used in a charitable solicitation) Charitable contributions to the IEEE Foundation are tax deductible to the fullest extent allowed by law in the United States. For other countries, please check with your local tax advisors.
The IEEE Foundation is the philanthropic partner of IEEE. It raises charitable donations and manages US$66 million in assets on behalf of IEEE.
IEEE Foundation:
Inspires Donations to IEEE - Bringing Visibility, Focus, Scale, Impact, and Relevance to the work of IEEE through philanthropy.
Manages Donations for IEEE - Ensuring effective financial management and strong governance. Accepts, manages, stewards, and accounts for donations and subsequent expenditures. 
Invests in Programs of IEEE - Turning the donations into action and impact through IEEE Programs.
Programs IEEE Foundation Supports:
Illuminate the possibilities of technology by using it to address global challenges. 
Educate the next generation of innovators and engineers.
Engage a wider audience in appreciating the value and importance of engineering & technology.
Energize innovation by celebrating technological excellence.
IEEE Foundation Employer Identification Number (EIN) 23-7310664.
Philanthropy is the practice of giving money, time and talent to help make life better for other people.
Legal Disclaimers and Forms
The IEEE Foundation has developed standardized content for use on marketing materials that require important notices and legal disclaimers. Release forms have also been made available to help in your marketing efforts.
Legal Disclaimers
Please visit the IEEE Promo Library for web and print promotional messages representing the IEEE Foundation. Use them to extend the IEEE Foundation message.