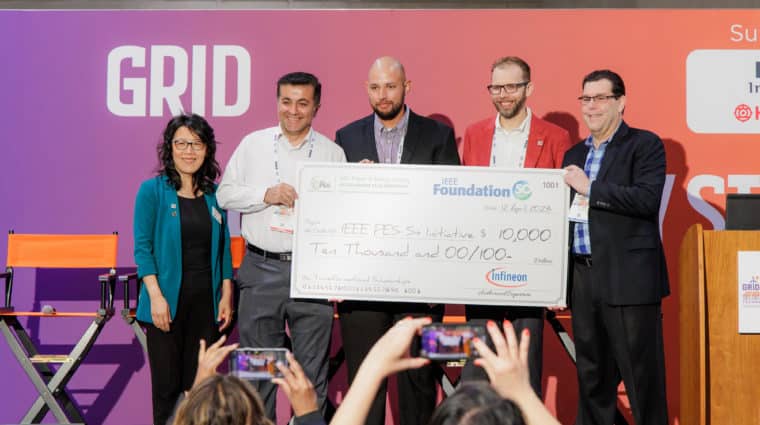 Infineon is a long-time active member of the IEEE community. As an innovative company building on solutions that help drive decarbonization and digitalization, Infineon believes IEEE's mission to advance technology for the benefit of humanity aligns with its mission to make life easier, safer and greener. This is why Infineon took the next step to become a donor company.
Infineon supports IEEE Power and Energy Society Scholarship Plus (PES S+) because "Education for Future Generations" is a critical component of Infineon's Corporate Citizenship program. This year, they identified scholarship programs to further support STEM-related education in North America. After assessing multiple industry organizations, Infineon found that the PES S+ initiative complements its efforts around driving decarbonization and digitalization to save our planet.
According to the U.S. Bureau of Labor Statistics, by 2026 there will be a shortfall of six million engineers, or more. There simply are not enough engineers to meet demand. By sponsoring PES S+ with a gift of $10,000, Infineon is playing a part in making engineering degrees more accessible. Removing financial barriers to engineering degrees is an investment in everyone's future; today's students are tomorrow's innovators.
In the near future, Infineon hopes that PES, through the PES S+ initiative, can influence talented students to consider power and energy engineering first for a career. Longer-term, they hope its gift will help more students understand the importance of semiconductors to improve the generation, efficiency, and distribution of energy along the electrical grid.
PES is committed to advancing new green technologies and the smart grid, which will change the way power is generated, transmitted, distributed, and utilized. Semiconductors will play a critical role in this transformation as the building blocks of a climate-neutral, digital world. Through its semiconductor technologies, Infineon works to minimize losses, enable higher device and application performance, and use energy responsibly.
"Knowledge is power, and the ongoing education of society members, industry, and the general public is the most important work that PES does," explains Judy Davies, VP of Communications and Government Relations, North America, Infineon Technologies. "The Society creates a forum for the open exchange of ideas which builds the foundation for innovation and connects students who are our future."