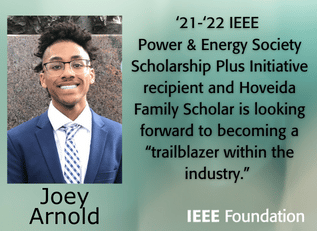 As he prepares to graduate with a BS/MS in electrical computer engineering from Drexel University, Joey Arnold, one of the inaugural Hoveida Family Scholars selected through the 2021-2022 IEEE Power & Energy Society (PES) Scholarship Plus Initiative cycle, is looking forward to becoming a "trailblazer within the industry."
Joey's path toward electrical engineering was circuitous in that his decision to pursue it was made after considering, and ultimately discarding, several other alternative career directions.
"I get asked, 'why electrical engineering' a lot, and really I just knew what I didn't want to do," he explained. "Once I narrowed it down and saw that electrical engineering had an energy and power focus, I realized I could combine my interest in nuclear engineering and power generation together. I recognized at a young age this is something that is going to pick up pace, and that is motivating because I want to be in a field that is contributive and pushes society toward greater heights."
Joey chose Drexel for the real-world learning opportunities the university offered which he knew would give him an edge. As a result, he will graduate with experience at Rhoads Industries, a multidiscipline corporation that provides industrial fabrication, installation and maintenance for commercial and government projects, and Exelon Corporation, a leading competitive energy provider in the US.
"My cooperative education opportunities were life changing," he said. "At Rhoads, I learned about Department of Defense (DOD), IEEE, and The American Society of Mechanical Engineers (ASME) specifications and saw design change in action. I also witnessed firsthand how important the project management side that is married to the engineering side is for my work when it comes to implementation. [This] pushed me to realize I want to be an electrical engineering leader that not only implements and sees designs through, but also gets new designs off the ground."
At Exelon, Joey continues to work at the Pottstown-based Limerick Generating Station on a digital modification project that is being closely watched by the US Department of Energy which, if successful, could have far-reaching impacts on nuclear power plants nationwide.
"I see the nuclear industry growing, which is why I'm glad to be able to marry [my interest in it with] electrical engineering," he said. "I see electrical engineers needing to have nuclear engineering backgrounds going forward because an understanding of both will be needed if we're going to reach our overall carbon emission goals. Advanced Small Modular Reactors (SMRs) are going to be necessary because there are more people, power demands, and technology, and we need to be able to meet all these needs."
Joey notes that being a student member of the IEEE Power and Energy Society has helped him meet his educational goals.
"Especially this year," he said. "My goal has been to read a technical article a day pertaining to my field to stay current, and PES has provided me with the means to stay up-to-date and gain knowledge of the power field."
As he transitions from student to professional, Joey hopes to join an IEEE PES power committee someday.
"I see involvement as being very important and want to be able to contribute to the power industry by giving back, and IEEE PES is a great way to do that," he said.
He also wants to find ways to encourage young people, and minorities in particular, who want to become engineers by letting them know they can realize their goals.
Upon graduation, Joey will begin his professional career as an electrical engineer at Burns & McDonnell, a full-service engineering, architecture, construction, environmental and consulting solutions firm, where he is excited about the prospect of working on new SMR developments and "cultivate meaningful ideas and relationships in order to help bring the future to reality." For nearly a decade Burns & McDonnell has been one of the generous corporate supporters of the IEEE PES Scholarship Plus Initiative helping to prepare students like Joey to positively impact the future of the power and energy industry.
The PES Scholar application cycle opens on 1 March. Please share the exciting scholarship opportunities with EE students interested in the Power & Energy Sector.