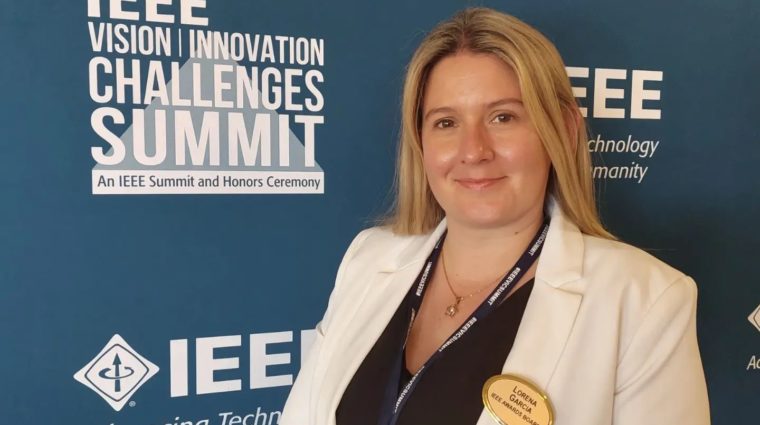 Lorena Garcia is currently a member of the IEEE Educational Activities Board (EAB) and has been a volunteer member of this group for the past eight years, which includes serving as the chair of the Pre-University Education Coordinating Committee and as a member of the HKN Board of Governors. Her work with the EAB has driven her generous giving to the IEEE Foundation, supporting the TryEngineering Program and IEEE Eta-Kappa-Nu (HKN), among other programs. Additionally, she was a member of the IEEE Foundation's 50th Anniversary Committee this year, contributing to successful initiatives and celebrations.
"I have witnessed the transformative influence of IEEE's educational programs on students and educators, which further motivated me to support their mission through my donations," shares Lorena.
Some of her favorite program impacts include:
"By investing in these amazing programs," Lorena confidently states, "I am actively contributing to advancing STEM education, promoting diversity and inclusivity, and nurturing the next generation of engineers and technologists."
Lorena received her B.Sc. in Electronic Engineering from Universidad del Norte, Colombia, in 2006 and her M.Sc. in Electronics Engineering from Universidad de los Andes, Colombia, in 2008. She has vast experience in academic administration, teaching, and research in important institutions in Colombia. Currently, she is an Assistant Professor at the School of Engineering and Basic Sciences of Universidad Central, Colombia. Lorena also leads the Commission on Diversity and Inclusion of the Colombian Association of Engineers.
Throughout this time, she believes IEEE substantially impacted her professional growth and personal development. She has been an active volunteer for 21 years and plans to continue her volunteer work with IEEE because she believes it creates a meaningful global impact.
Lorena shared that one of her most memorable moments volunteering through IEEE came in 2021 when the STEM portal was launched. As they started receiving reports from volunteers about their pre-university STEM activities, the magnitude of the collective impact became clear. To date, more than 18,000 dedicated volunteers have organized more than 1,500 events across 60 countries. These efforts have reached nearly 130,000 students, engaged more than 20,000 teachers, and involved 18,000 parents. The level of engagement and the profound impact on the lives of so many has been overwhelming and incredibly touching for Garcia.
"IEEE Foundation-funded programs have the potential to achieve significant outcomes and create lasting impacts. These programs aim to inspire, empower, and support individuals in different domains, including engineering education, technological innovation, community development, diversity and inclusion, and sustainable solutions," Garcia elaborates. "These initiatives can create a ripple effect, inspiring individuals to become lifelong learners, innovative problem-solvers, and agents of positive change. "
Lorena recognizes that the programs can encourage more young women to follow in her footsteps and pursue a STEM career. She believes many of the activities supported by the IEEE Foundation work towards introducing STEM to girls in an inspiring way, where not only the technical elements are presented, but also how female engineers can leverage technology to solve problems in their communities.
"Many young women are not seeing engineering as a viable path for them, due to cultural or family issues, or a lack of knowledge or motivation toward the discipline," explains Lorena. "But as female engineers, we have the power to make a significant impact on society and shape the future. The world needs our expertise, creativity, and contributions to address the challenges we face and create a better tomorrow. I want young girls to believe in their abilities, be bold in pursuing their aspirations, and create a network of support for each other."
When asked what she would share with her fellow members, Lorena expressed that every contribution, regardless of size, can make a difference in the lives of children, their families, and their communities. She knows that by paying it forward and investing in the future, donors to the IEEE Foundation ensure a thriving and diverse community of engineers and scientists who will shape a better world for all.
Contribute to Lorena's worldwide initiative and discover how the IEEE Education Activities programs, supported by the IEEE Foundation, are making a significant impact in philanthropy.